Return to Headlines
Students play major role in CEO's address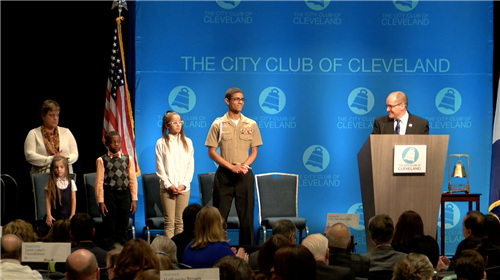 CMSD NEWS BUREAU
9/14/2016
Some of the most influential people in the city filled the Hilton Cleveland Downtown ballroom to hear CEO Eric Gordon's annual
State of the Schools address.
And among the tables of politicians, religious leaders and education advocates sat dozens of CMSD students from 17 schools, taking in Gordon's remarks and mingling with local leaders.
Students were highlighted from before the program started, with the Cleveland School of the Arts string quintet performing in the hallway as guests trickled into the ballroom, all the way to the end, when students grilled Gordon during the question-and-answer session.
During the address, CMSD students took to the stage as Gordon shared data on improvements made under The Cleveland Plan since its 2012 launch, starting with the creation of 1,200 high-quality preschool seats through the PRE4CLE program. Each student was representative of the grade level impacted by the reforms.
J'Dian Farris, fourth grader at Anton Grdina, stepped onstage as Gordon discussed strides made to help students meet Ohio's Third Grade Reading Guarantee. Farris said he felt special being in front of the crowd, despite his nerves.
"I was a little bit shy, but I did it," Farris said. "It was just great."
It was also the students who dominated the question-and-answer session following Gordon's address. Students asked the CEO about a range of topics that included cafeteria lunches and adding more extracurricular activities through community partners.
"The toughest questions always come from students," Gordon said with a smile.
A fourth grade student at Wade Park asked Gordon how her school could get more teachers for gifted students. The CEO said talks are already underway among administrators to expand gifted programs across CMSD.
A Cleveland School of the Arts student wanted to know how much money from the Issue 107 levy directly impacted him and his peers. Gordon noted that the District hired 1,000 new teachers in the past three years and replaced the reading, math and K-8 science curriculums across the District, among other improvements.
"There's example after example of things you may not even notice day by day but are actually impacting you and your peers in every school in the District," Gordon said.
Students said after the program that they were inspired by Gordon's speech and satisfied that he answered questions about some of their academic concerns.
James Ford Rhodes 11th-grader Jasmin Albino says she was grateful and excited to be invited for the speech. She and several of her classmates were chosen by the principal for their exemplary grades and behavior.
"You hear a lot of stuff about the school system and how things should be changed, but it's a new experience to hear it firsthand from somebody that can actually do something about it," Albino said.
She was also inspired by Gordon's personal story.
"My favorite part was when he said that the reason why he was an administrator and educator was because he didn't like the way he was treated when he was in school," Albino said.
James Ford Rhodes 11th-grader Crystal Pongallo called the address "absolutely beautiful."
"It helped me understand why they're doing everything that they are doing at my school, from tests to the kinds of things they're teaching us," she said.
Pongallo, who aspires to work in education, says she hopes to attend more State of the Schools events in the future, but next time as one of the change agents making things happen.