Return to Headlines
CEO joins national policy leadership group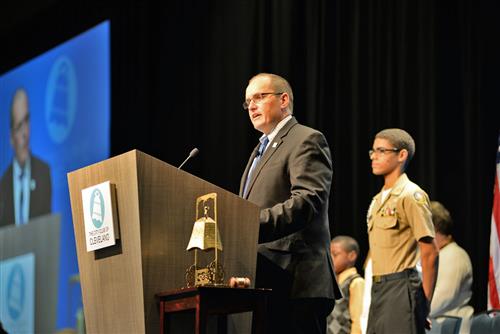 CMSD NEWS BUREAU
9/22/2016
Cleveland schools Chief Executive Officer Eric Gordon has joined Chiefs for Change, a group of leaders who seek to shape the future of education in the United States.
Gordon was admitted to the group with Mitchell Chester, Massachusetts commissioner of elementary and secondary education; Christina Kishimoto, superintendent of the Gilbert, Ariz., schools; and Robert Runcie, superintendent of the Broward County, Fla., schools.
"It's a privilege to join forces with colleagues across the country and align the work we are doing individually and collectively to raise student achievement," Gordon said. "I look forward to working with this diverse group of leaders to explore solutions to the challenges our students face and to effect meaningful change on a national scale."
The nonprofit
Chiefs for Change
, founded last year, now totals 24 state and District leaders.
Chiefs for Change seeks to help states work within the landmark new federal education law, the
Every Student Succeeds Act
. The organization also helps to develop new leaders and launch innovative new policies and practices.
"In the age of ESSA, student success depends on state and district chiefs now more than ever," John White, the Louisiana state superintendent and chairman of the Chiefs for Change board, said in a statement released by the group. "These four new members have demonstrated a deep commitment to equity and have implemented strategic, innovative policies and practices that we can all learn from."
Gordon leads CMSD's execution of
The Cleveland Plan
, a customized blueprint for education reform in the city. The plan charted sweeping changes designed to increase the number of high-performing District and charter schools in Cleveland, shift authority to individual schools, launch expansion of high-quality preschool and other districtwide reforms and ensure accountability for results.