Return to Headlines
'Cleveland goes to College' kicks off higher ed push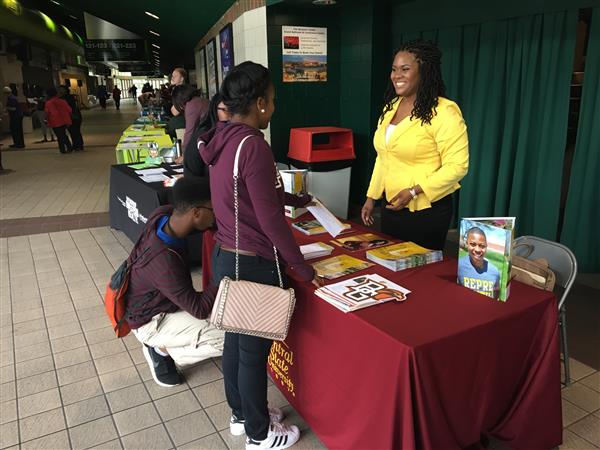 CMSD NEWS BUREAU
9/29/2016
CEO Eric Gordon stood in front of nearly every senior in CMSD on Wednesday and proudly exclaimed, "In Cleveland, Ohio, we are going to college; 1,900 of us are going to college!"
Gordon was speaking at the "Cleveland Goes to College" kickoff event, part of ongoing efforts by CMSD and community organizations to create a college-going culture for students.
Seniors from more than 30 CMSD high schools spent the day at Cleveland State University's Wolstein Center, learning how to successfully apply to and graduate from college. Representatives from College Now Greater Cleveland and the Higher Education Compact of Greater Cleveland led seminars on financial aid, scholarships, decision-making and alternative career pathways. Students also had the chance to meet with admissions representatives from more than 20 colleges and universities at a college fair.
Gordon told the students how he succeeded despite growing up in a poor, rural town outside Toledo where few people went to college.
"I am living proof that you can take yourself -- with the supports around you -- all the way through that journey to pursue your dream."
The seniors also heard from East High School graduate and former NFL player Steve Sanders. Sanders runs "Training Camp For Life," a program that aims to help young male athletes develop mentally, emotionally, physically and spiritually to find success both on and off the field of play.
"College isn't easy," Sanders told the students. "You have to stay focused. You have to do a lot to accomplish the goal to become a college graduate, and the amount of self-discipline that you have in life is what's going to take you there."
Arel Moodie, a motivational speaker who grew up in the housing projects of Brooklyn, New York, gave the keynote address. Moodie witnessed gun violence at a young age and saw his best friend sent to jail at age 17.
"Right now, many of you are in in this situation," Moodie said. "And if you think there's no way you can be successful, there's no way you can go to college, you'll be right. But if you change your perspective and realize every single one of you has the ability to become the poster child for success in Cleveland, you will become that person."
Maggie McGrath, director of the Higher Education Compact, said the kickoff was designed to get students excited about college and give them the tools they need to succeed.
Preparing students for college and careers is one of the goals of
The Cleveland Plan,
a blueprint for sweeping education reform. Along with raising the high school graduation rate -- which jumped 17 points over the last five years to a record-high of 69.1 percent --the plan calls for increasing college enrollment and retention among CMSD graduates.
"We just really want to give students as much information as possible about what their options are and how they can achieve success after high school," McGrath said.
And judging from students' feedback, it was a huge success.
"With the speakers, the way they talked to us inspired me to further my education, and they actually gave me hope," said James Ford Rhodes senior Isaiah McCoy.
Ginn Academy senior Jamie Johnson, who hopes to study engineering at Tuskegee University, said the speakers' messages resonated with him.
"Just because I don't have the most money or I'm not the most gifted, I can still be something and I can still reach high potential," Johnson said.
Whitney Young student Anthony Harris, who hopes to attend Baldwin Wallace University, Wright State University or the Art Institute of California, says the kickoff motivated him to get a head start on applying for financial aid.
"Before, I did not know the date that FAFSA (Free Application for Federal Student Aid) opened up, and today I know," Harris said. "I'm going to apply this Saturday."
College Now and the Compact are engaging in ongoing efforts to help CMSD seniors in pursuit of a college degree. Representatives will be at the Convención Hispana on Oct. 8 to help students complete FAFSA and provide other financial aid assistance. They will also hold college application workshops in CMSD high schools throughout November, which is College Application Month.