Return to Headlines
Hundreds of students register, vote for first time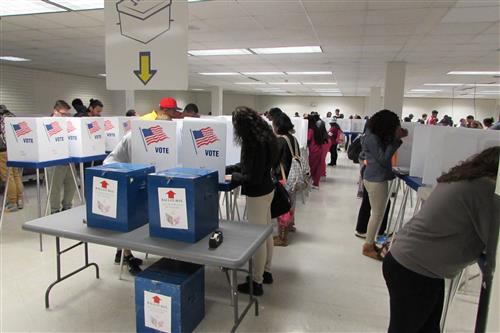 CMSD NEWS BUREAU
11/3/2016
Thanks to the combined efforts of several community partners, nearly 200 CMSD students poured into the Cuyahoga County Board of Elections this week to cast their first ballots in a major election. In some cases, it was their first election ever.
Students from 18 high schools were welcomed to the polls with much fanfare as volunteers cheered, clapped and congratulated them on their first time voting, an experience many students described as exciting and empowering. Northeast Ohio Voter Advocates, the League of Women Voters of Greater Cleveland -- both nonprofit, nonpartisan voting advocacy organizations -- and the Cuyahoga County Board of Elections collaborated with schools to make it all happen.
The Board of Elections opened a separate area for students that is usually used for overflow so that they could all cast ballots together. Staff members greeted students when their buses arrived and explained the voting process.
"The Board of Elections has enjoyed a long community partnership with the school district," said board Director Pat McDonald in a prepared statement. "I know this very successful event will leave a lasting impression on those who participated and help get them into the habit of voting in every future election."
NOVA and the LWV worked with Gayle Gadison, head of the District's social studies department, beginning in June, to inform students about the importance of voting. More than 400 students registered to vote through in-school initiatives, according to NOVA, which is paying for the cost of busing students to the polls. The Board of Elections helped ease students into the elections by sending preview ballots to the schools ahead of time.
Statistics have shown that young voters have historically turned out in low numbers for presidential elections. NOVA board member Andrew Kohn hopes these initiatives can change that.
"We believe that once they've voted once, it will be easier the next time, and we will have created this group of young people who are voting every year in every election," Kohn said.
Cleveland School of the Arts senior Jaquanna Robinson Robinson said she was motivated to vote because of issues like the gender pay gap, funding for schools and the local job market.
"The people that are running for office are going to be my president, my senators, my representatives, so I felt like it was important for me to get involved," Robinson said.
Sommer Lizanich, a senior at James Ford Rhodes, said that after voting this week, she plans to participate in future elections.
"Every vote counts, even if people don't think it does," Lizanich said. "It does make a difference, because we have people in the service that give their lives for us to have the chance to actually make a difference and choose who we want to represent us."
Some students are taking their civic actions beyond casting a ballot. Several of them are being trained to work at the polls on Election Day through the Board of Elections' "Future of Democracy" program. The students had to submit a letter of recommendation from a teacher, have a 2.5 grade-point average or higher and be at least 17 years old.