Return to Headlines
CMSD's SEL program draws praise
CMSD NEWS BUREAU
5/2/2017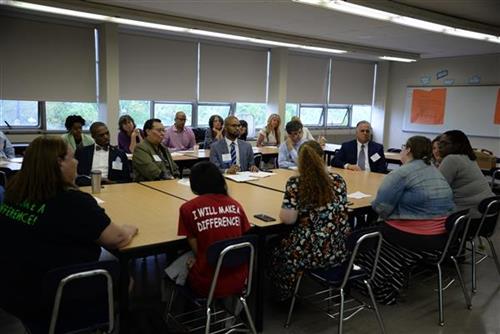 A prestigious group spent two days in Cleveland this week, learning how CMSD helps students cope with the distractions of anger, stress, anxiety and fear.
The
National Commission on Social, Emotional and Academic Development
will issue a report late next year on the need to integrate all three areas so children can raise achievement and emerge from school better prepared for college, work and life.
The 25-member commission believes it is starting the nation's most significant conversation about K-12 education in a generation. Commissioners say all students require the support in a daunting world, not just those burdened by homelessness, violence and other trauma related to poverty.
In addition to providing information, schools have to instill inspiration, commission Co-Chair Timothy Shriver said as his stay in Cleveland neared an end. He added: "I see that happening here."
"The focus has shifted from a focus on academic subjects to a focus on children," said Shriver, founder and co-chair of the
Collaborative for Academic, Social and Emotional Learning
and chairman of the Special Olympics. "The District speaks this language, the teachers speak this language."
Commission members and presenters said the problem calls for a community solution and points to the need for colleges of education to emphasize knowledge of child development. Some, like District of Columbia Public Schools Chancellor Antwan Wilson, said SEL is equally as important for adults who work with the children.
Another co-chair, former Michigan Gov. John Engler, is immediate past president of the
Business Roundtable,
which brings together the country's leading CEOs. He said low test scores and high dropout rates back calls for a "more holistic" approach to education.
"We're spending $650 billion as a nation on K-12 education annually," he said in an interview. "We're not failing because we're not investing. We're failing because we're not delivering on that investment. We've got to change that."
CMSD's social and emotional learning program, viewed by many as a model, includes instruction in preschool through eighth grade (the District is researching a high school curriculum), student support teams in each school, constructive alternatives to suspension and forums where students can build a sense of community, solve problems and give feedback. Surveys administered twice a year measure whether students feel safe, respected and supported and how they evaluate their SEL training.
The District began the program after a school shooting in in 2007. A student at SuccessTech Academy wounded two teachers and two classmates, and then killed himself.
Leaders moved quickly to place metal detectors and security guards throughout the District but knew the response also had to get at root causes. To complement the hardware, CMSD started the social and emotional learning program
Humanware
.
"We were never going to let a child feel that desperate again," Chief Executive Officer Eric Gordon said during a panel presentation Monday at the downtown Hilton Hotel.
Earlier Monday, commissioners visited two schools to observe SEL in action.
At Wade Park School, they were greeted by students in uniform sweater vests, ambassadors who earn and cherish that position of honor. They also toured Facing History New Tech High School, a one-of-a-kind high school that combines the social-justice curriculum Facing History and Ourselves with the project-based learning style of the New Tech Network.
"Facing History is what we are; it's what we do," Principal Marc Engoglia told the commissioners. "That brings a lot of social and emotional learning to our classrooms."
Tuesday's agenda included two panel presentations at the downtown Cleveland Public Library. The first featured State Superintendent of Public Instruction Paolo DeMaria, state senator and Education Committee Chair Peggy Lehner and Cleveland Board of Education Vice Chair Robert Heard.
DeMaria said the state has developed social and emotional learning guidelines and can help by fostering research, offering training and brokering partnerships with mentors. But he said the most effective approach would be showcasing strategies like CMSD's and encouraging imitation customized by the users.
Trauma in children's lives "creates trauma in the classroom," said Lehner, a Dayton-area Republican. She applauded the work of CMSD and community partners to ease that pain.
"What you are doing is very, very important," she said. "You are really at the forefront of cultural change in how schools are run."
The other panel discussed partners' contributions. Members included Cleveland Teachers Union Vice President Jillian Ahrens,
Greater Cleveland Partnership
General Counsel and Vice President Shana Marbury,
MyCom
Director Kasey Morgan and Stephanie Wu, national senior vice president for
City Year
.
CMSD and the teachers union wrote elements of Humanware into their contract to ensure the program could survive changes in leadership on either side. Ahrens described social and emotional learning as a "bread-and-butter" issue for CTU.
"It was probably the easiest article to write," she said. "We were so committed with the District and union on what we were doing."