Return to Headlines
Attendance campaign hits goal for 2nd year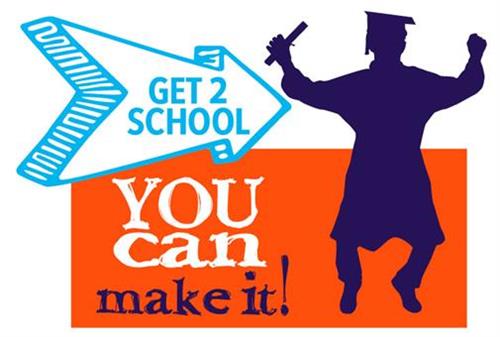 CMSD NEWS BUREAU
6/20/2017
For a second consecutive year, CMSD has met its goal of a 10 percent reduction in the number of students who miss more than 10 days of school.
The District's "Get 2 School, You Can Make It!" attendance campaign just concluded its second year. It seeks to reduce the number of students with "off track" attendance when the figure is compared with the average of the previous three years.
To meet the past year's goal, 56.1 percent of students had to miss 10 or fewer days. The final number was 56.3 percent. The total exceeded the three-year average by 1,828 students.
The state defines chronic absenteeism as 10 percent of the school year, or 18 days.
But CMSD sets a more rigorous standard because District data shows that students who miss more than 10 days score an average of 15 points lower on state math tests and 12 points lower on reading exams. High school students are 34 percent less likely to graduate and third-graders are 9 percent less likely to meet Ohio's Third Grade Reading Guarantee.
According to CMSD's most recent state report card, the District reduced chronic absenteeism by 6.3 percent during the campaign's first year. Attendance rose 1.5 points to more than 91 percent.
The campaign raised awareness during the past year with billboards and other publicity. Audio messages played for passengers as RTA buses passed select schools.
Volunteers at phone banks called parents and offered to find help solving transportation problems and overcoming other barriers to attending school. The District and individual schools provided incentives like pizza parties to reward attendance.
Incentives helped raise attendance on You Can Make It! days, days like those just before or after breaks when families might be tempted to let students take extra time off. Across the District, attendance rose 1.2 percent on those days during the past year, when measured against comparable days.
The Cleveland Browns Foundation serves as the campaign's signature partner, with contributions that include arranging for players to visit schools and record automated phone calls encouraging good attendance. Players also recorded the audio
messages heard on buses.
The foundation and District partnered with Shoes and Clothes for Kids to assemble Special Teams Packages with uniforms and other clothing so nearly 1,000 students, many of them homeless, would have appropriate and clean apparel for school.
Attendance by those students rose almost 3 percent in the 30 days after they received the clothing. Among those who had missed more than five days in the previous month, attendance went up by nearly 15 percent.
Arby's, a partner of the Browns, donated meals to reward classes for good attendance. The company also provided up to 26,500 coupons for Arby's Kids Meals to help keep students fed over the summer.
Separate from the Browns' efforts, McDonald's owner-operator Herb Washington gave away more than 300 bicycles to students as an attendance reward at the end of the school year.
Chronic absenteeism is a challenge for schools across the country. CMSD conducted the
Northeast Ohio Chronic Absenteeism Summit
in April, bringing districts and other agencies to FirstEnergy Stadium to discuss solutions.