Return to Headlines
New Bard tries to replicate first school's success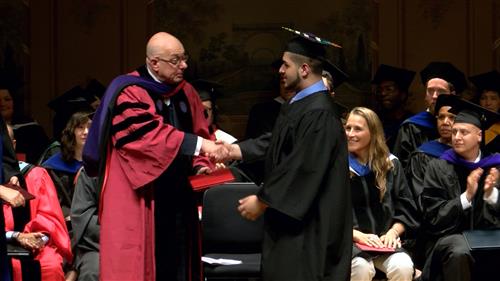 CMSD's first Bard High School Early College graduated its first seniors in 2016.
CMSD NEWS BUREAU
9/12/2017
CMSD's Bard High School Early College Cleveland West Campus is graduating more than 90 percent of its seniors, and 80 percent of them are also leaving with college associate's degrees – tuition free.
Now the District and its partner, Bard College of New York, are trying to replicate that success at a second location across town.
Bard High School Early College Cleveland East Campus opened last month with ninth-graders in the building it shares with another new model, John Adams College and Career Academy. Bard East Campus will celebrate its arrival with a ceremonial ribbon cutting on Friday morning.
Bard early college high schools seamlessly integrate high school and college classes, so students can earn both the diploma and associate's degree under the same roof in four years. The Cleveland locations are among just six such Bard schools in the country.
"I'm thoroughly excited to be at Bard East Campus," said Principal Lea Dotson, who formerly headed a charter school in Youngstown. "The model drew me here. It's very progressive."
Bard East Campus lives by the college's motto, "A Place to Think." The school helps students connect their coursework to the real world and become voices for change in the community.
Students work closely with advisers to develop good study habits and skills such as time management. They also will participate in community service that Dotson hopes will help revitalize the surrounding neighborhood.
Bard early college high schools require students to apply and go through an interview, but the schools do not necessarily want those with straight A's. They prefer a cross-section of students who may have stumbled in the past but have a passion for learning.
"Not all of our kids come in with four-point averages," Dotson said. "But there's something about each and every last one of them that sparks our interest."