Return to Headlines
First Bard East class gets official welcome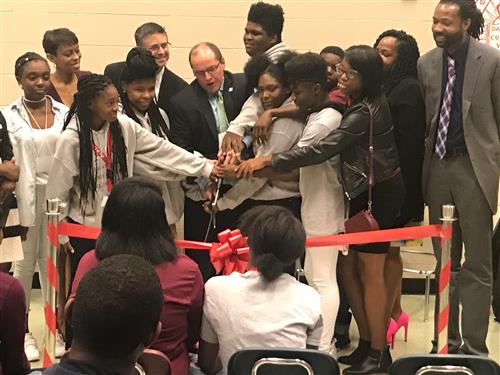 CMSD NEWS BUREAU
9/15/2017
The first ninth-graders CMSD's Bard High School Early College Cleveland East Campus received an official welcome Friday, and it was filled with reminders of the opportunity that awaits them.
Bard East, the second school of its kind in Ohio and one of only six in the country, seamlessly integrates high school and college classes, so students can earn both a diploma and associate's degree under the same roof in four years. CMSD operates the schools in partnership with Bard College of New York.
The school actually opened in August, but District and college officials gathered Friday for a ribbon cutting at the John Adams building on Martin Luther King Jr. Drive.
Bard East's founding class will have the "super rare" experience of attending a degree-granting early college program, said John Weinstein, dean of early colleges for Bard College.
"A lot of people want to give you some college credits," Weinstein told the Class of 2021. "Bard is one of the very few that want to give you a whole degree."
CMSD Chief Executive Officer Eric Gordon praised the ninth-graders for being pioneers, risk takers and, in a sense, rebels, the John Adams campus mascot.
He said the two Bard schools help make Cleveland a true "portfolio district," with options designed to help students find the right fit. Providing quality options is a cornerstone of The Cleveland Plan, a customized blueprint for education reform in the city.
"There are not many other cities in the state that have as many choices for kids," he said.
Bard high schools select students based on interviews but don't insist that candidates be straight-A students. They want a cross-section of students, including some who may have stumbled in the past but have the required passion for learning.
After graduating from CMSD's Miles Park School, Hailey Monae French seized the chance to earn a diploma and college degree at the same time. Hailey said the program is rigorous, but she is prepared.
"My plan is to be successful in life," she said. "I'm up to the challenge. That's just me."
Bard's Cleveland schools are among about 15 early colleges in Ohio and 400 nationwide, said Clara Haskell Botstein, associate vice president for Bard Early Colleges. She said Bard will advocate for state funding that would make early colleges available across Ohio.