Return to Headlines
HealthCorps message becomes virtual reality at Ginn
CMSD NEWS BUREAU
10/12/2017
Want to teach a teenage boy how to eat better? Let him experience the lesson through a virtual-reality headset.
HealthCorps, which teaches nutrition, exercise and mental resilience to Ginn Academy students, offered that carrot Thursday at the all-male school. Ginn is the only school in Ohio and one of only 25 in the country served by the national nonprofit.
Users of the "Sugar Goggles" navigate the body, targeting healthy food choices. Atkins Nutritionals developed the game and donated a set that will travel among schools in the HealthCorps network.
Ginn Academy has worked with HealthCorps for eight years. Megan Mukenge, a staffer based at the school, teaches the organization's curriculum, directs a cooking club and helps oversee care of produce in two gardens, one inside the school the other outdoors.
"It's a little bit of everything, just making the school more health-conscious and making that part of its culture," she said. "My goal is to get students thinking about choices and developing healthy habits at a young age."
HealthCorps selected Ginn to announce a partnership with Atkins, citing the school's dedication to the health and wellness of students.
HealthCorps and Atkins have developed two study guides: "Think Before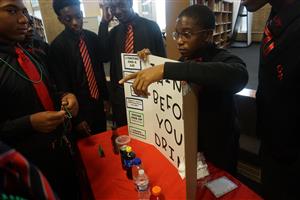 You Drink," about making better beverage choices, and "Understanding Diabetes." The work is part of Atkins' campaign against "hidden sugars," said Vicki Cox, the company's nutrition communications manager.
Dr. Michael Roizen, chief wellness officer at the Cleveland Clinic, serves on the HealthCorps board of advisors. He told Ginn students that sugar consumption can lead to obesity, diabetes and cancer.
Nationally known Dr. Mehmet Oz, a former Clevelander, founded HealthCorps in 2003. The nonprofit typically spends four years at a school but has chosen to stay on at Ginn.
"It is one of our 'legacy schools,' "said Chief Communications Officer Karen Johnson, a former Assistant Secretary of Education for Congressional and Legislative Affairs under President George W. Bush. "It is a great partner and is willing to take on initiatives like this. It's a perfect backdrop for what we're trying to achieve."
Sophomore Deion Jackson, who joined the school's cooking club last year, said lessons learned from HealthCorps have persuaded him to eat better and exercise more often.
Junior Michael Murray is also getting the message.
"I'm going to slow down on pop; I'm going to slow down on fast food," he said. "I've started drinking more water, too."
Ginn Academy was one of six CMSD schools to be recognized this year under the Alliance for a Healthier Generation's Healthy Schools program. Ginn is a repeat winner in the program, which honors schools for promoting exercise, nutrition and safety among students and staff.