Return to Headlines
CMSD in spotlight as urban educators open conference (video)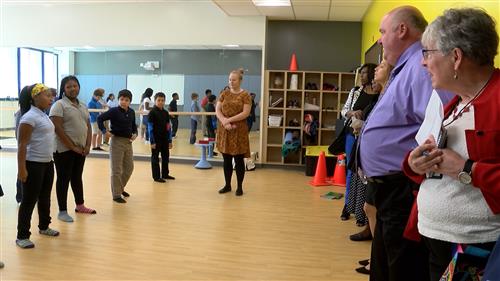 Visitors from the Council of the Great City Schools' fall conference visit CMSD's Campus International K-8 School at Cleveland State University.
CMSD NEWS BUREAU
10/18/17
More than 1,000 urban educators from across the country are gathering at the downtown Hilton this week, meeting to discuss their mutual concerns and get a glimpse of progress in CMSD schools.
The turnout for the Council of the Great City Schools' annual fall conference is one of the largest in the group's 61-year history. District CEO Eric Gordon credited the city's convenient heartland location and the critical nature of issues facing urban schools, but he also cited reform work going on under The Cleveland Plan.
"People want to know what we're doing," he told CMSD's senior leaders, who moved their weekly meeting to the hotel on Wednesday morning, the conference's opening day. "This is a big moment for us."
CMSD is participating in 18 of 75 small-group discussions at the conference, displaying their efforts in areas such as diversifying the workforce, supporting principals, improving attendance and promoting wellness.
They are sharing the spotlight with some big names. Philanthropist and Microsoft co-founder Bill Gates will deliver a keynote address Thursday and actress Rosario Dawson and CNN contributor Van Jones will speak Friday.
Jones also will moderate a town hall on "What Does Equity Really Mean?" Gordon will sit on a panel at that forum with superintendents and a board member from Milwaukee, Dallas and Denver. Also on the panel will be a CMSD parent and two high school students, one of whom came as a refugee from the Congo.
Wednesday's highlights of the Council of the Great City Schools' fall conference
On Wednesday, as other participants were registering, educators from as far away as Oakland, Calif., jumped on Lolly the Trolley and visited two of the District's many school models: Campus International, an International Baccalaureate K-8 school at Cleveland State University, and the Lincoln-West School of Science and Health, which has classrooms at MetroHealth Medical Center. The visitors showed keen interest and posed questions to school representatives at both sites.
At the Hilton, the council's new Males of Color Task Force presented a report on strategies for raising achievement among black and Latino boys and young men. A standing-room crowd of about 150 suggested that the task force add focus on areas such as curbing chronic absenteeism, recruiting minority teachers, emphasizing restorative discipline and providing classes that will prepare students for up-and-coming career fields.
Milwaukee Superintendent Darienne Driver pushed for creating the task force after taking over as chair of the Council of the Great City Schools Board of Directors on July 1. She said the task force will now take a deeper look at practices already under way in urban school systems.
"There's quite a bit of research that has to happen," she said after the task force meeting. "What's working? What's moving the needle?"
At a meeting of the council's task force on English Language Learning and Bilingual Education, a panel discussed the most pressing challenges related to the education of ELL students, which is one of the fastest growing groups of students in the country.
The discussion touched on how school districts are supporting students who are immigrants, refugees and DACA (Deferred Action for Childhood Arrivals) recipients in a political climate where many of these students and their families may feel wary of their status in the nation. A breakout session on Thursday will take a closer look at those issues.
Some of the topics attendees brought to the table included barriers to teaching math with complex English language to ELL learners, examples of classroom activities to help students become comfortable with English and issues with testing systems that use a microphone but don't recognize the various accents of ELL students.
Richard Carranza, superintendent of the Houston Independent School District, helped moderate the task force meeting. He oversees a district that serves nearly 58,000 ELL students in kindergarten through 12th grade. (For comparison, CMSD has around 3,300 ELL students, according to data collected by CGCS.)
"I want educators and administrators in every district to know that they have a voice in shaping the policies and projects around ELL education that we're pursuing as a council," Carranza said after the meeting.
The council began with 12 districts in 1956 and now represents 69 of the nation's largest urban school systems. The council assists its members through advocacy, communication, research and technical assistance.
Cleveland CEO Gordon currently serves as the council's secretary-treasurer.
Last year, the council honored Gordon with the Green-Garner Award, making him the Urban Educator of the Year.
The award, which is given in alternating years to a superintendent and school board member, will be presented to a board member on Thursday night.
Follow the Council of the Great City Schools' fall conference on Twitter at #cgcs17