Return to Headlines
2 high school choice fairs set for this month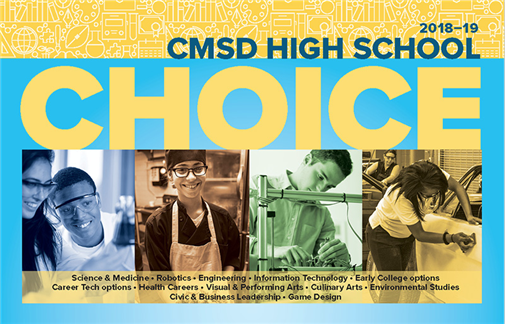 CMSD NEWS BUREAU
1/16/2018
CMSD's High School Choice Fair is not new, but it will be improved this year.
For starters, the former lone fair, held downtown at Cleveland State University's Wolstein Center, has been replaced by two -- one on the East Side, the other on the West Side -- for families' convenience.
The fairs will be from 5:30 to 7:30 p.m. on Tuesday, Jan. 23 at the East Professional Center, 1349 E. 79th St., and 5:30 to 7:30 p.m. on Tuesday, Jan. 30 at Max S. Hayes High School, 2211 W. 65th St.
As always, families can visit booths, gathering information about the more than 30 high schools. CMSD, a portfolio district, has developed a wide variety of school models and lets students and families choose so they can find the right fit.
But another difference this year is that District staff will hold sessions for families during the fair, emphasizing factors to consider when determining the schools that match students' interests and best prepare them for college or career. The staff will also help navigate the choosecmsd.org enrollment portal, with computers available so parents can set up accounts and make selections.
"We want them to think critically about these decisions and look beyond location and what can be found on a website," said Rick McIntosh, executive director of school choice and enrollment. "We want them to be consumers of education."
A third difference this year is that all eighth-graders, the primary audience for the fairs, are informed as they weigh their options. That is because the True2U mentoring program, which helps eighth-graders focus on college and career planning, has completed a three-year phase-in and is available districtwide.
The District's goal is to have all 2,400 eighth-graders choose their schools. Last year, the number fell just shy of 100 percent.
School choice is part of The Cleveland Plan, a customized blueprint for education reform in the city, and over time CMSD has developed models that emphasize the arts, early college study, information technology, social justice, medicine and more. The schools prepare graduates to go on to college or obtain industry certficiation.
For the best chance of getting their first selections, families should make choices before the enrollment portal closes March 9. If demand exceeds the number of seats available in a school, a lottery will be held March 16.
Have a story idea for the CMSD News Bureau? Email it to newstips@clevelandmetroschools.org