Return to Headlines
CMSD, trade group launch school-to-apprenticeship program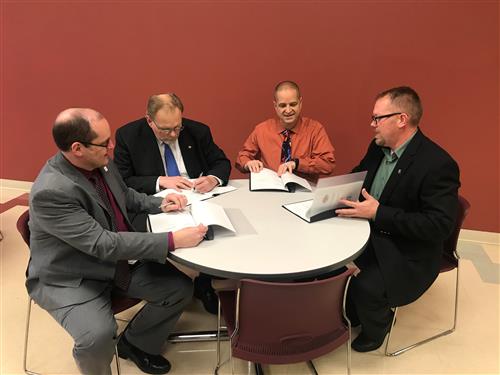 CMSD NEWS BUREAU
1/24/2018
CMSD and representatives of the sheet metal industry have reached an agreement that would let students go straight from Max S. Hayes High School to a five-year apprenticeship in the trade.
The agreement could serve as a template for similar arrangements with other trades, District Chief Executive Officer Eric Gordon said after signing the document Tuesday with leaders of the Sheet Metal Workers Joint Apprenticeship and Training Commitee of Cleveland. John Nesta, a retired sheet metal worker who now serves as a construction curriculum specialist at Max Hayes, said he has had conversations with other groups.
CMSD and the Cleveland Building and Construction Trades Council agreed on a pre-apprenticeship program more than two years ago, but students who participate still have to go through apprenticeship programs' admission procedures. The memorandum of understanding with the Sheet Metal Workers JATC would allow students to bypass a test that determines their rank on a waiting list.
"It's going to take them directly from their high school courses to a lifelong career that pays well above a living wage and good benefits," Nesta said. "After five years, they're at top scale without a large college debt."
To qualify, students must be at least 17 years old and graduate from Max Hayes with a minimum 3.0 average in their building construction or welding courses and an overall average of at least 2.5. They also must maintain 95 percent attendance in high school, two points above the state standard.
Before becoming apprentices, they can start working in the industry the summer between their junior and senior years in high school, with a starting wage of $12.50 an hour, plus benefits. After the five years, they will become journeymen and earn a rate that now stands at $36.91 per hour.
While serving their apprenticeships, the JATC will pay for them to receive 160 hours of training per year at the regional council's training center in Parma. Nesta said the training will take them halfway to an associate of applied science degree, with a major in sheet metal working. They can choose to complete the degree by paying to take Cuyahoga Community College courses not related to the trade.
The JATC has similar agreements with three other career-technical schools in the Cleveland area. Committee co-chairs Kevin Tolley, a union business representative, and John E. Sickle Jr., president of Duct Fabricators Inc., said the CMSD school-to-apprenticeship program promotes inclusiveness while allowing District graduates to make a good life for themselves.
"It's a great deal for them and us," Tolley said.
Max Hayes juniors Matthew Gonzalez, Kristina Martinez and Austin Williams attended the signing ceremony. All three described the program as an outstanding opportunity that they are interested in pursuing.
"I don't think that college is the way to go for me," Matthew said. "I think this will put me in a better setting. I would rather know a trade."
Have a story idea for the CMSD News Bureau? Email it to newstips@clevelandmetroschools.org.