Return to Headlines
Dental clinic gives CMSD students reason to smile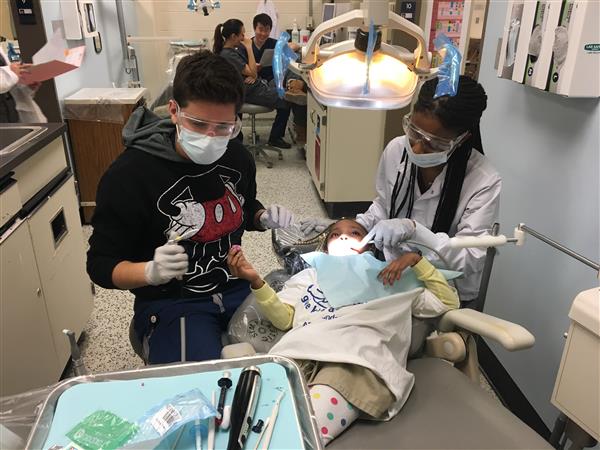 CMSD NEWS BUREAU
2/2/2018
More than 250 children in Cleveland are smiling a little brighter today after visiting the dental clinic at Case Western Reserve University on Friday.
Case dental students and dentists from the Greater Cleveland Dental Society spent the morning providing free exams, cleanings, X-rays and sealant work to students from Alfred A. Benesch, Marion-Sterling and George Washington Carver schools. Students who had cavities received fillings in the University Hospitals Rainbow Babies & Children's Hospital Ronald McDonald Care Mobile unit parked outside the dental school.
Give Kids a Smile is an annual event that Case has hosted since the program's inception in 2003. The initiative stands as one of the largest among similar events nationally and is conducted in partnership with the American Dental Association.
The event at Case was coordinated by Daniel Gindi and Amberlee Taylor, both clinical assistant professors at Case and members of the dental society
"This is a great opportunity for children to get care they need and for the dental students to partner with more experienced dentists," Gindi said.
Many students who attend the clinic have never been to a dentist before. The three schools that participated are located in one of Cleveland's most impoverished neighborhoods.
The Case dental clinic, which is usually busy with adult appointments, shut down for the morning to treat the students. To make the process less intimidating for the children, the Dental Society brought in a magician, a therapy dog, Cleveland Indians mascot Slider and Cleveland Cavaliers mascot Moondog.
"We want to show the kids that not only is going to the dentist not a fearful thing, but it's a good thing," Taylor said.
Britni Skoda is a fourth-year dental student who has participated in Give Kids a Smile since her first year. She says the experience has led her to look at her career through a community-focused lens.
"The biggest thing is seeing the need for access to care and the importance of that in our Cleveland community," she said.
Most of the children she works with have never been to a dentist before, and she often finds extensive decay as a result.
"For me, that's super important because it identifies a huge need in our community right here," Skoda said.
The experience has been such an influence on her that she plans to stay involved next year after she graduates and becomes a practicing dentist. She also hopes to provide free care to students from the clinic who are referred to outside dentists for additional care.
Taylor said that working with the CMSD school nursing staff over the years has led to meaningful connections with the Case dental school and the Dental Society.
"They're a really big part of making this happen because they gear up the teachers and explain the importance of this program," Taylor said. "Without them, this would be much more difficult."
Have a story idea for the CMSD News Bureau? Email it to newstips@clevelandmetroschools.org.