Return to Headlines
Garrett Morgan nurse named Ohio School Nurse of the Year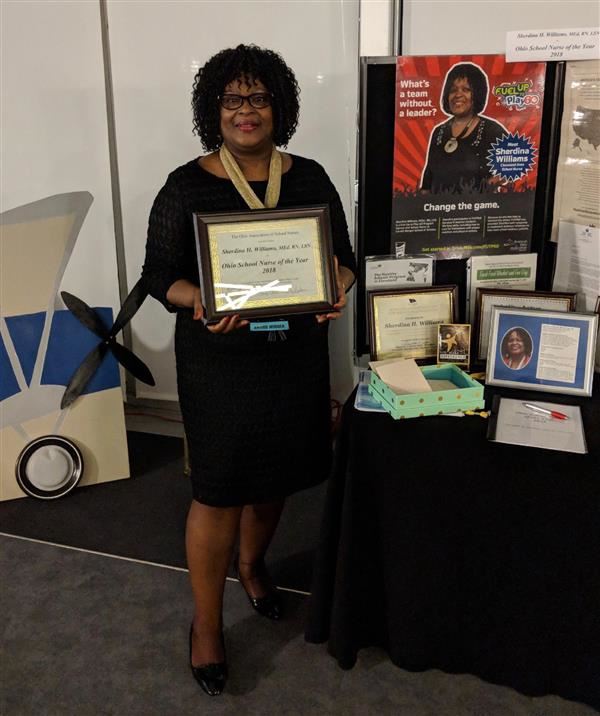 CMSD NEWS BUREAU
3/13/2018
A CMSD school nurse who has dedicated nearly 20 years of her life to improving the health of Cleveland's children has been named the 2018 Ohio School Nurse of the Year.
Sherdina Williams, from Garrett Morgan High School, was honored last weekend at a reception during the Ohio Association of School Nurses annual conference.
Williams said she felt honored and humbled by the award, which she received after being nominated by her colleagues.
"I found out in February, but it didn't quite register until I was at the reception," Williams said. "That's when I realized it was a big darn deal."
Williams has been the school nurse at Garrett Morgan going on seven years. She has been instrumental in transforming the school into a model for student and community wellness and helping Garrett Morgan to earn Ohio's first-ever gold award from the national Alliance for a Healthier Generation in 2016.
While Williams spends each day from 8 a.m. to 2:30 p.m. carrying out routine school nurse duties, it's the extra time and effort during and after school that has made a difference.
Garrett Morgan is one of about 20 CMSD schools that distribute free produce in partnership with the Greater Cleveland Food Bank, but it's the only one that does it twice a month. Williams makes sure each food pantry also involves some sort of free education program on mental and physical health. She sometimes brings in healthcare partners to perform health screenings and distribute educational materials.
Williams also applied for a grant in 2016 that led to Garrett Morgan receiving six Nutribullet blenders for the school and 40 others that were distributed to students. Williams uses fruits and vegetables from the food pantry to make smoothies every Friday, an idea that students love.
"Health and wellness cannot be something extra in the building, it has to be the culture of the building," Williams said.
For Williams, this includes working with teachers to incorporate wellness into subjects like math, English and science. She recently worked with a chemistry teacher to craft a lesson on the elements of iron and calcium that are found in spinach.
"It's important to teach students what they're eating, where it comes from and what it's made of," she said.
This means donuts or sugary drinks are not allowed in staff or parent meetings, ito ensure the whole Garrett Morgan community is on board with healthy habits.
Williams is also strategic in including students' families and the larger community in these school activities. When staff began planning a holiday party last year, it wasn't just about the students, but also about their families and community members. This is the approach in all things at Garrett Morgan.
"Students don't live in school. They live with their families and in the community," she said. "So no matter what we do in school, if our families and communities aren't healthy, nor will our students be."
CMSD Director of Health and Nursing Services Deborah Aloshen said Williams' community-based philosophy is what makes her work so impactful.
"She sees her job as serving the whole community and is always looking for opportunities to do that," Aloshen said. "She's not only working on making our students healthier, but helping them grow up to be people who can teach others about health."
Williams is motivated in part by her personal connection to Cleveland and CMSD. She grew up here and graduated from East Tech High School. She serves on her class's alumni committee.
Williams earned her bachelor's degree in psychology from Hampton University in Virginia, her nursing credentials from Cuyahoga Community College and her master's degree in community health and education from Cleveland State University.
Before going to Garrett Morgan, Williams worked at a handful of other CMSD schools including Louis Agassiz, George Washington Carver and Alfred A. Benesch.
In all the work she's done at Garrett Morgan and beyond, Williams said she has always had a strong team of colleagues ready to bring her ideas to life.
"I won the award, but I wouldn't be telling the truth if I said it was just about me," Williams said. "I've worked with an awesome team. They have been all in."
Have a story idea for the CMSD News Bureau? Send it to newstips@clevelandmetroschools.org.