Return to Headlines
'Black Lightning' creator talks diversity with East Clark students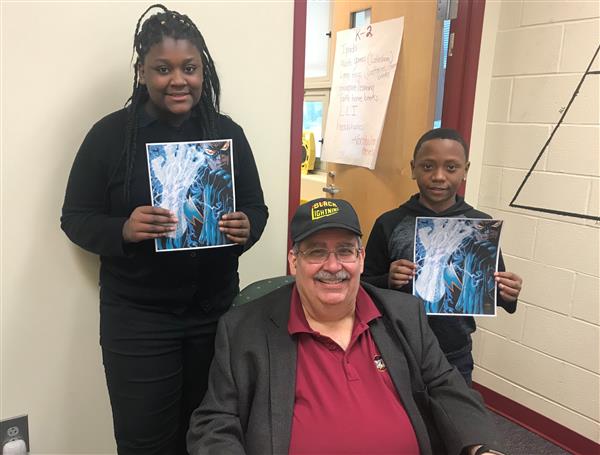 "Black Lightning" creator signed posters for East Clark students Kimberly and Davion after he spoke to a group of students about the genesis and evolution of the comic.
CMSD NEWS BUREAU
3/22/2018
Tony Isabella, the man behind the DC Comics superhero "Black Lightning," has held tight to his Cleveland roots since he created the character in the 1970s.
Decades later, Isabella visited East Clark School in Collinwood and shared the stories and inspiration behind DC's first African-American superhero with the youngest generation of Cleveland children. He spoke with fifth- through eighth-graders about how growing up reading comics with a diverse group of friends motivated him to create "Black Lightning," a schoolteacher who acquires electrical superpowers that he uses to fight crime in his crime-ridden neighborhood.
"When I was growing up, there weren't a lot of black characters in comics, but everybody wants to see themselves in the fiction they enjoy," Isabella said. "'Black Lightning' was something I created for my black friends."
Isabella grew up on the West Side of Cleveland and currently lives in Medina when he's not traveling to conventions or other events.
The CW's prime-time series version of "Black Lightning," premiered in January. Meanwhile, Isabella is writing the six-issue DC Comics miniseries "Return of Black Lightning." The third issue is on the stands, and the story is set in Cleveland.
Some of the plot and settings that appear in the comics are inspired by the city. The climactic battle in the final issues takes place in an abandoned U.S. Coast Guard station on Whiskey Island (In the comic book, it's called Scotch Island). The cover of third issue, showing two frightened children, references a story informed by the November 2014 shooting of 12-year-old Tamir Rice.
The appearance at East Clark was Isabella's first visit to a CMSD school in recent memory. It was the result of a letter written by East Clark curriculum and instruction specialist Tara Roberson, who read a Plain Dealer article about Isabella in January and thought he would be a strong role model for her students.
"It's important for students to see professionals of a different type," Roberson said. "They've met attorneys and doctors on career day, but I thought it also would be beneficial to introduce them to someone from Cleveland who's made a career out of his creative talents."
The East Clark students, who completed art projects related to "Black Lightning" before Isabella's visit, were impressed and, in some cases, star-struck. Fifth-grader Kimberly said she enjoyed learning about the backstory of the groundbreaking comic book character.
"This is my first time ever hearing about a black superhero, and it's inspirational to let black people know that they can be anything they want and that superheros can be any race," Kimberly said.
Isabella said he hopes to encourage kids in Cleveland that comics is a welcoming field for people of all backgrounds.
"I want to let them know that comics really is a colorblind field," he said. "If you can write or draw well, people will read your comic books."
Have a story idea for the CMSD News Bureau? Email it to newstips@clevelandmetroschools.org.