Return to Headlines
CEO's plan keeps Whitney Young students together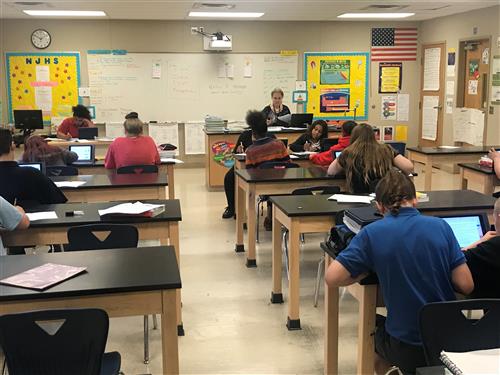 Older students at CMSD's William Cullen Bryant School attend classes in a wing of modular classrooms. A new plan that keeps Whitney M. Young Leadership Academy students together involves installing a wing of 14 modular classrooms.
CMSD NEWS BUREAU
5/10/2018
District CEO Eric Gordon has heard the concerns of students and families and has come up with a plan that keeps Whitney M. Young Leadership Academy intact.
The school, faced with declining enrollment, was to be split. The fifth through eighth grades would have merged with Charles W. Eliot PreK-8 School in a building now under construction on the Whitney Young property. Upper grades would have relocated as an independent high school and become part of the John F. Kennedy Campus.
Instead, under a plan that Gordon announced Wednesday, Whitney Young will remain whole in a 14-classroom modular wing that will be added to the new building on Harvard Avenue. Charles Eliot will occupy the new structure and be kept separate, though the two will share spaces like the gym, cafeteria and music and art rooms.
Adding the prefabricated modular classrooms, similar to those integrated effectively at several other CMSD schools, will cost $1.5 million. The Board of Education is to consider the plan on May 29.
The CEO broke the news to students representatives Wednesday afternoon in the Whitney Young media center, a day after meeting with about 50 student protesters who showed up unexpectedly at the District's downtown offices. The kids flashed the thumbs-up sign when asked what they thought of the new plan.
Whitney Young, known for its gifted programs and high graduation rate, has less than 200 students, including about 30 graduating seniors. Students used to enter at second grade, but lower grades have been phased out.
Gordon said Whitney Young now has a chance to jumpstart enrollment and demonstrate that the school can be a sustainable, long-term option for families. The CEO challenged the students to help recruit.
"You are democracy done right, you are democracy in action," he said. "But democracy does not end when you get the first step in the solution. That's where it starts."
Principal Karen Byron-Johnson responded: "Thank you. This is all we could ask for. We are up to the challenge."
Gordon rolled out the plan to the community Wednesday night at a meeting that ward Councilman Joe Jones hosted at Whitney Young.
In contrast to the discontent evident at a school board meeting last month, the audience greeted the news with applause. A Whitney Young sophomore named Miyah grew emotional as she stood at a microphone and expressed gratitude.
"We fought for this school," Miyah said. "We want to stay together."
The original Whitney Young plan, part of a state-funded District construction program, was made public several years ago.
Gordon has acknowledged that CMSD did not adequately inform people of the impact on Whitney Young. He said the decision to change course is based on special circumstances and consistent with The Cleveland Plan's charge to invest in high-performing options for students and families.
The CEO said he will work with Jones to create an advisory board for Whitney Young. A number of CMSD schools have established such boards to provide expertise and other support.
Some Whitney Young students had expressed concern about how well they would mix with other students at the JFK Campus, which will move to a new building in 2020. Gordon said the change of plans would allow the campus to focus on its programs without distraction.
The new PreK-8 building on the Whitney Young site will not be ready until January. Whitney Young will remain in its existing space during the first semester of next school year, while Charles Eliot temporarily moves into a Whitney Young annex that Citizens Academy Southeast, a charter school, has been leasing. Citizens Academy has purchased the existing Charles Eliot building and will take it over this summer.
When the new PreK-8 is ready, the old Whitney Young will be demolished.
Have a story idea for the CMSD News Bureau? Email it to newstips@clevelandmetroschools.org.