Return to Headlines
Orchard's Duplisea is regional Teacher of the Year (Video)
CMSD NEWS BUREAU
7/31/2018
Orchard STEM School's Catherine Duplisea didn't become a teacher with the goal of winning awards, but she keeps collecting honors just the same.
Duplisea, a former kindergarten teacher who now guides other Orchard teachers as they develop lessons in STEM (science, technology, engineering and math), has been named 2019 Teacher of the Year for Ohio State Board of Education District 11.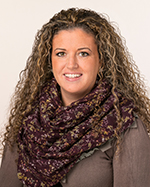 She and 10 other regional winners now have a chance to be named Ohio's Teacher of the Year in the fall. The Ohio winner will compete for the National Teacher of the Year award, sponsored by the Council of Chief State School Officers.
Last year, Duplisea was one of 10 winners in the second annual Excellence in Teaching Award program, a partnership between the George Gund and Cleveland foundations, the school district and the Cleveland Teachers Union. She also received the state's master teacher designation last school year.
The Ohio Department of Education asked school districts to submit nominees for the regional Teacher of the Year awards. Jacquinette Brown, CMSD's director of professional development, nominated Duplisea, calling her an "amazing teacher for students and an inspiration for teachers."
District 11 board member Meryl Johnson worked with a committee of educators, parents and business leaders to pick the winner. Johnson, a former CMSD teacher, said Duplisea's passion, belief in strong partnerships with the community and willingness to share STEM-based practices with educators across the state made her an ideal candidate.
Duplisea is entering her 13th year as a teacher and her fifth with CMSD. While saying she is still a kindergarten teacher at heart, Duplisea is now the school's STEM lead model teacher, helping to plan and facilitate STEM lessons with a focus on technology integration using iPads. In 2016, Apple supplied an
iPad for every Orchard student
as part of the White House's ConnectEd initiative.
She works with all of Orchard's teachers and students, providing innovative lesson ideas and assisting in classrooms when new approaches are introduced. Orchard STEM has adopted computer coding in every grade and students in most classrooms produce digital portfolios. Classes are using green-screen technology and teachers are moving more toward the role of facilitator for students who are problem solving, exploring, creating and enjoying learning.
"My passion for teaching in urban education stems from a burning desire in my soul to live a life of service and do my part in closing opportunity gaps," Duplisea said. "I am honored to be on such an amazing team of educators in CMSD. I will continue to proudly represent our scholars, educators and community, shedding light on the joyous innovation and creativity we see in our classrooms each day."
Duplisea grew teary eyed when a team visited her classroom last October and surprised her with news of the Excellence in Teaching Award. Winners are nominated by their colleagues.
"I can't believe this is actually happening," she said. "I never did my job for recognition. I did it because I love kids. It's an amazing honor that my peers view me this way."
Have a story idea for the CMSD News Bureau? Email it to newstips@clevelandmetroschools.org.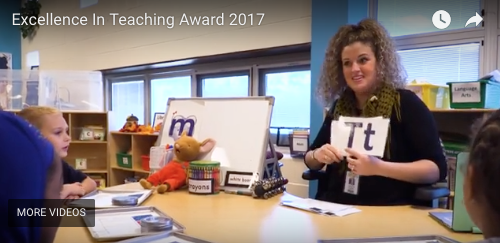 Catherine Duplisea appears in a video featuring last year's Excellence in Teaching Award winners. To view, click on the image.