Return to Headlines
Year to bring new learning models, buildings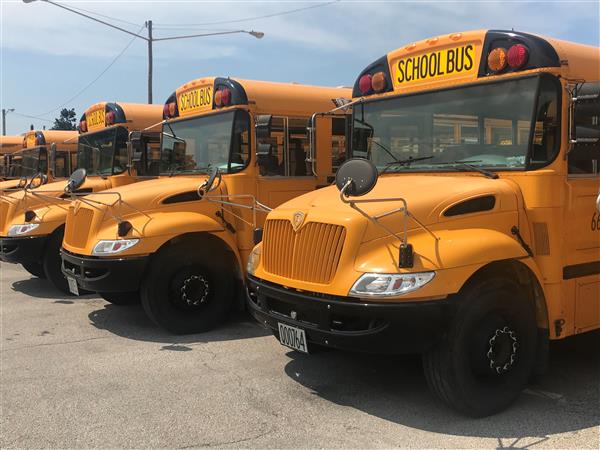 CMSD buses are ready to roll when the school year gets fully under way Monday.
CMSD NEWS BUREAU
8/9/2018
CMSD is starting another school year, a year that will bring the opening of seven new buildings and the rollout of new teaching and learning strategies at 13 schools.
The majority of students will return from summer break on Monday, Aug. 13. A select group of high schools that follow year-round or extended calendars are already in session.
The seven new PreK-8 buildings will be ready at the start or during the school year, continuing a modernization program funded by the state and local taxpayers.
In the ongoing effort to improve academic achievement throughout the District, 13 PreK-8 schools have adopted one of three instructional designs: inquiry-based learning, youth leadership development and personalized learning using technology.
One of those 13 schools is the new William Rainey Harper in Old Brooklyn. Harper, which will open with preschool through third grade and then gradually expand until it reaches up to eighth grade, will also be the third school in the District to follow the International Baccalaureate model.
Harper Principal Ajayi Monell is one of nine new principals leading schools this year. Others are LaTosha Glass, Anton Grdina; Jocelyn Smith, Charles Dickens; Kristen Kelly, John Adams College and Career Academy; Dora Bechtel, James A. Garfield; Derrick Holifield, Kenneth W. Clement Boys' Leadership Academy; Tamara Clemmons (co-principal) Martin Luther King Jr. Campus; Jessica Gamble, Riverside; and Damon Holmes, Ginn Academy. CMSD's Aspiring Principals Academy, which is entering its fifth year, has now produced a fourth of the District's principals.
Starting in September, Sprint will provide 1,500 cell phones, tablets and Wi-Fi hot spots to students at select high schools, so those with limited or no Internet access at home can use the devices to do schoolwork online. This is part of the 1 Million Project, a nationwide effort by the carrier to fill a connectivity gap and provide students with reliable service they can use to complete homework.
CMSD also will pilot student email in a dozen PreK-8 and high schools, so students can use productivity tools to complete and turn in assignments. As a side benefit, high school students can become proficient in use of the Microsoft Office 365 suite and earn a specialist's credential.
Starting in late September, Healthy Schools, a company that works with schools in nine states, will administer free flu shots to District students whose parents or guardians have given consent. The company will bill insurers if families have coverage.
Some other things to look for this year:
CS4CLE, an effort to put computer science in every District high school, will double in size and serve about half of the high schools.
CMSD's Division of Safety and Security will start a new Safety Town program and hopes to have it visit every PreK-8 school in the District by the end of the school year.
The Athletics Department is holding preseason clinics for players in various sports, starting with football, soccer, golf, tennis and volleyball.
CMSD and the Case Western Reserve University nursing school will seek to test 3- to 5-year-olds in half of the District's PreK-8 schools for lead poisoning. The testing will expand on a pilot program conducted last year.
The Multilingual Multicultural Office begins its first full year with family engagement services, including a refugee coordinator, dedicated to English language learners. The District's ELL population has doubled to 10 percent of the overall enrollment since 2012.
A team will fill in details of a plan for arts education, building on an outline drafted by principals, other CMSD leaders and foundations. The plan will help integrate the arts with core subjects or enhance those subjects in schools across the District.
The "Get 2 School. You Can Make It!" attendance campaign will seek to repeat its success in reducing the percentage of students who miss 10 or fewer days of school. The campaign, entering its fourth year, will take a deeper look at complications that interfere with attendance.
School Nutrition Services has continued a makeover by adding an executive chef, Tim Wright. Wright, formerly executive chef at Kent State University, will work with a committee to develop menus and recipes that feature more local products.
CMSD's Transportation Department will make it easier to use Bus Tracker, an online program that allows parents and caregivers to follow the travels of their children's buses. The program, already available on personal computers and laptops, will also be accessible through an app, starting in September.
Cleveland hopes to learn whether Say Yes to Education has agreed to make the city its fourth affiliate, joining those in Syracuse and Buffalo, N.Y., and Guilford County, N.C. Assisted by Say Yes, the community would provide scholarships that fill gaps in postsecondary tuition and align services that can keep students on track to graduation.