Return to Headlines
Michael R. White, Stonebrook Montessori to merge, create Montessori campus in Glenville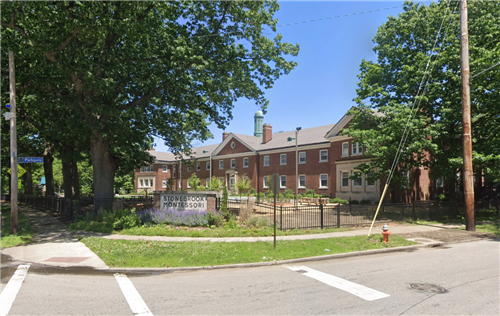 CMSD NEWS BUREAU
1/27/2020
As part of the Cleveland Metropolitan School District's long-term planning for quality schools in every neighborhood, Michael R. White School will merge with Stonebrook Montessori to create a vibrant new Montessori school option in the Glenville community, starting with the 2020-21 school year.
In a one-of-a-kind partnership in Ohio, CMSD will combine Stonebrook Montessori, a charter school it has sponsored for five years, and the District's neighboring Michael R. White PreK-8 School.
This collaborative partnership will expand opportunities for students and families in both schools and will establish a high-quality Montessori model in the Glenville neighborhood. The partnership also advances Stonebrook's essential mission to provide free, child-centered education to Cleveland's children.
Starting next school year, Stonebrook staff, students and families will have access to District resources, as well as student support services and after-school programming that Michael R. White now offers through Say Yes to Education.
By adding an East Side Montessori campus to its portfolio of options, CMSD will maintain a presence in a section of Glenville perched above Rockefeller Park. Michael R. White was to close at the end of this school year under the District's new long-term plan for programs and facilities.
"The Stonebrook Montessori Board of Directors is excited to be a part of creating an innovative Montessori campus for the East Side of Cleveland," said Rebecca Nappi, chair of the Stonebrook Board. "We look forward to the partnership and collaborative redesign process that leverages our Montessori expertise and highlights the District's talent, strengths and commitment to high-quality public Montessori for our city and its scholars."
Michael R. White Principal Ariel Hayes will lead the school, while Jacqui Miller, Stonebrook's principal will assume the role of Montessori model leader.
Teachers from both schools can stay on, officials say. Stonebrook faculty who choose to stay on will become District employees while current Michael R. White teachers who choose to remain will become credentialed Montessori teachers.
Hayes said she was pleased to continue serving the neighborhood and a school that has steadily raised its state rating from an F to a C over the last three years.
"We love the community and want to continue to provide a quality education here," she said. "To be able to continue that work, coupled with the benefit of Montessori, it's all positive."
The combined school will occupy both buildings for at least a year while the District studies space needs. The name of the school has not been determined, but the eventual choice will draw from both Stonebrook and Michael R. White.
Christine Fowler-Mack, the District's chief portfolio officer said that over the next year, a committee representing the District, Stonebrook and the community will develop a plan to fully integrate the two schools into a single high-quality Montessori campus for the East Side.