Return to Headlines
CMSD takes steps to raise third-grade reading scores
CMSD NEWS BUREAU
Friday, 12/13/13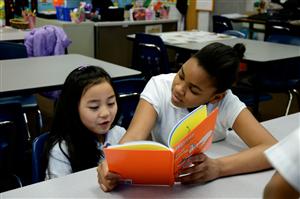 A majority of CMSD third-graders have yet to achieve proficiency in reading, but the District has an aggressive plan to raise their scores by the end of the school year.
Just under 24 percent of District's 2,774 third-graders ranked as proficient or better on a state assessment given in mid-October, down from 31 percent last year, according to results that the Ohio Department of Education released Friday. Passing the test is more critical than ever -- students who don't make it are in danger of being held back under the state's new
Third-Grade Reading Guarantee.
Chief Executive Officer Eric Gordon and Chief Academic Officer Michelle Pierre-Farid acknowledge the seriousness of the work ahead but note that students were tested just a few weeks into the school year on skills they are expected to master by the end of third grade.
Pierre-Farid said the data will show teachers exactly which skills students have to work on and will allow them to pursue instruction tailored to those needs. Parents will receive progress reports and tips on ways they can reinforce the lessons at home.
"Every day counts, every minute counts, every child counts," she said. "There is a sense of urgency throughout the District that every one of our children be successful. "
This year's assessment was more rigorous because questions were based, in part, on the new
Common Core State Standards
that will take effect across the country next school year.
In Columbus, 34 percent of students reached proficiency, down from 40 percent in October 2012. The district had been warning that its scores could fall, spokesman Jeff Warner said.
"It's a crisis," he said. "It's the most important thing we're doing."
Akron's public schools saw proficiency drop from 44 percent to 38 percent after four consecutive years of gains on the October test. Assistant Superintendent Ellen McWilliams said the reversal was "gut-wrenching," but she felt some consolation after checking with nine or 10 other school systems, urban and suburban, on their preliminary data and learning that all had experienced some kind of decrease.
Students will get another chance to earn promotion by taking the Ohio Achievement Test in April.
According to the Ohio Department of Education, exceptions to the Third Grade Guarantee will be made for students who:
are in special education and have a waiver written into their individual education plans;
speak English as a second language and have been enrolled in the District or ESL for less than three years;
have previously been retained in kindergarten through third grade and have undergone two years or intensive remediation.
Students who are ready can take fourth-grade coursework in other subjects and be promoted during the year after passing third-grade reading.
Related stories: