Return to Headlines
Orchard School of Science ribbon cutting turns into pep rally (videos)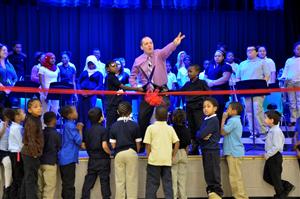 CMSD NEWS BUREAU
Jan. 9, 2014


The dance team (See Vine video below) wowed the crowd at
Orchard School of Science
Thursday morning at official opening of the school's new building. The school orchestra and the student speakers who introduced various public officials also impressed the adults with their talent and composure.
But the place really went to pieces when CEO Eric Gordon led an increasingly raucous chant of "We love Orchard!" just before wielding an oversized pair of scissors to cut a red ribbon with the help of a handful of first-graders.
"I may be CEO now, but I'm a former school principal and I really love pep rallies," Gordon told the crowd. "Let's hear it for your new school!"
The $16-million, 63,300-square-foot building has space for 450 students, is LEED certified as a green-friendly building and has a state-of-the-art computer lab.
"And we could not have done this without taxpayer support to have this beautiful building," Gordon said during brief remarks before leaving the podium to start the pep rally.
In 2001, voters in passed a bond issue to supplement state money. Since then, the District has built 31 new schools, renovated seven others and has three more under construction.
Thursday's performance and celebration were reminiscent of earlier this year at the opening of Paul Dunbar School, when Gordon led a similar group cheer. Both Gordon and CMSD Board Chair Denise Link noted that it has already been a school year worth cheering about when it comes to the opening of new buildings.

In addition to Dunbar and now Orchard, the District has opened new l buildings for Almira and Miles K-8 schools.

Gordon commended Gary Sautter, deputy chief of capital programs for "behind-the-scenes" excellence.

Tonight, the District tonight is holding the last l of 14 community meetings about its plan for future construction. The 6 pm meeting is at the Collinwood Recreation Center.

Link also reminded the students and families about why the school exists: "I'm so pleased that we could do this, but to all of you students out there, do you know why we did this? We built it for you."

Cleveland City Council members Joe Cimperman and Matt Zone also spoke and gave a congratulatory resolution to Principal Mary Anne Knapp for progressive education programs at the school.

Orchard is one of the District's STEM schools (science, technology, engineering and math) and features:
- Flexible classroom designs and student-centered environments that encourage interaction and development of problem- solving skills


- Lessons framed within the context of real-world problems
- A fully integrated arts curriculum to boost student involvement and achievement


Officials also thanked community partners Baker & Hostetler and the Progressive Arts Alliance for their respective roles in helping students.