Return to Headlines
Fair kicks off CMSD's February enrollment push (video)
CMSD NEWS BUREAU
1/30/2014

The choices were exciting and expansive Thursday evening at the District's
high school choice and college readiness fair
at Cleveland State University's Wolstein Center.
The ones doing the choosing were pretty excited, too.
Waves of students and their families, many armed with the recently released
CMSD high school catalog
(
Español
), walked around the circumference of the arena, where the District's high schools and nearly two dozen colleges had colorful and interactive displays set up to woo prospective students.
Josiah Keeley, 14, said he was looking for "an education that's more broad and unstandard" such as that at the Cleveland School of the Arts. He said he was considering music and art but also wanted to participate in sports like football, basketball and soccer.
His mother, Bernice, said her father worked for the Cleveland schools in the 1980s and that the family is focused on education.
"There are a lot more choices than just neighborhood schools now," she said. "My purpose here tonight is to make sure my son has the best fit for high school, the best opportunity and the best engagement."
Another eighth-grader said she was already leaning toward the Cleveland School of Science and Medicine at the John Hay Campus or the Health Careers Center at the Martin Luther King Jr. Campus because she would like to be an obstetrician.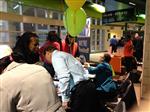 Options are at the heart of
The Cleveland Plan
, CMSD's state-approved blueprint for reform. The District is developing a portfolio system of schools, with different kinds serving different needs.
Students in Cleveland schools may enroll in the high school of their choice, provided that space is available. And if they live more than a half-mile from school, CMSD helps by paying for transportation through the Greater Cleveland Regional Transit Authority.
Early enrollment in CMSD schools will be conducted during February. After Feb. 1, parents and caregivers can call 216-838-ENRL (3675) to speak to an enrollment specialist.
Nearly every CMSD school table drew a cluster of students or families at some point in the evening, but there was significant interest in the new
Cleveland High School for the Digital Arts and Bard High School Early College
Cleveland
, which will be affiliated with Bard College of New York and allow students to earn both a diploma and associate degree.
A number of student volunteers swelled the crowd at the MC2STEM display. The school was
mentioned as an example
of a quality American high school in the online presentation of President Obama's State of the Union Tuesday evening.
William Watkins III is in eighth grade at a charter school, but his mother, Niambi, was not satisfied with the charter high school her older son attended. She said the high school did not prepare him for the college he went to after graduation.
They checked into the Cleveland High School for the Digital Arts, which will be a partnership between CMSD and the Center for Arts-Inspired Learning, as well as Glenville High School and SuccessTech Academy. They planned to stop at the MC2STEM table before leaving. STEM stands for science, technology, engineering and mathematics.
"His focus is science; he's very good at science," Niambi said. "I definitely want to keep him engaged in his field."
Families also were able to register for eight college bus tours organized by CMSD's Parent University.
The
Parent University campus bus tours
will begin Feb. 20 and end April 17. Separate trips will be made to Bowling Green, Wright State, Akron, Eastern Michigan, Ohio State's Mansfield Campus, Washington & Jefferson, Ohio University and Cincinnati.