Return to Headlines
Follow Lincoln-West students to Dominican Republic on Twitter, Instagram
CMSD NEWS BUREAU
2/23/14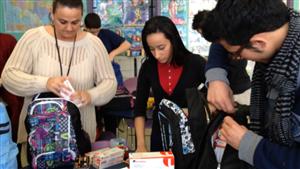 Eight
Lincoln-West High
seniors are heading to the Dominican Republican to help out a rural elementary school – and you can go along for the ride.
The students, all completing their senior public service project, plan to share their photos and observations on social media networks Twitter and Instagram (starting Monday or Tuesday, depending on internet connectivity near the town of
Veron on the eastern side of the island
country). The team flies out first thing Monday morning and will return Monday, March 3.
They've already been posting about their trip preparations under the collective name @LW_Capstone and they will be using the hashtag #LWTakesAction and occasionally #DR
International Studies Coordinator Robin Guerrero and her Dominican-born husband Lenin will lead the trip, their second in as many years. They'll be joined by Kezban Bayer, head of programming and software development education at the school.

"My husband is from the Dominican Republic so he's always found ways to give back, by providing water to areas that need it, for example," Guerrero said. "Then, last year, we shared the idea with Dr. Javier (school Principal Irene Javier) and she thought it was a great idea for us as a school, so we took a group of seniors last year."

The trip also augments the students' academic work, Guerrero said.

"One of the components of international studies is to take action, to improve the conditions of others, and that's what this is about," Robin Guerrero said as she and the students packed book bags full of school supplies. "When we adopted this school (Villa Esperanza), we found that they were in need of the very most basic supplies like pencils or a pencil sharpener, things we don't even think about."

She said each of the students will cram the school supplies into their carry-on luggage, which means they won't have as much room for their own things, a sacrifice that is part of the whole experience, several students said.

The students also will observe and eventually write about the cultural differences in the Dominican, compared with either their own American lives or their lives from their home country.

The diverse group of students on the trip: Damodar (David) Pyukural, who came to Cleveland from Nepal; Tanya Agosto, Stevens Gonzalez and Jesus Portalatin, three students born in Puerto Rico; Faliceonna Lopez, Adam Morales and Taisha Ortiz, all American-born students from Puerto Rican families and African-American Monaye Willis.

Each student raised the nearly $1,300 cost per person for the trip, Guerrero said, making them acutely aware of the cost to travel internationally, but also giving them perspective on the conditions of the haves and the have-nots in developing countries.

"But while this is a community that is poor by almost any definition, I think they'll find that they are also happy, so we'll be looking at that issue as well," she said.

Senior Taisha Ortiz said that disparity has already changed her.

"It teaches us to be grateful about the life and things we have here," she said. "A lot of people here complain about things that we really shouldn't be complaining about."

Adam Morales said that compassion leads to action: "It motivates us to do more, to help more," he said.

The Lincoln-West team will spend time at the K-3 school, staffed entirely by volunteers, helping with lessons with the elementary students.
"The push is for literacy, mostly, because so many children don't get an education past the third grade," Guerrero said. "We'll also look for any other ways to help, including ideas to get running water into the restroom building."

The team is also likely to have some fun on the trip, of course. They'll be in the country for next Thursday's celebration of the Dominican Republic's independence day.

And then there's the food.

"That's what I'm looking forward to," said Monaye. "I love to try different kinds of food from all sorts of cultures, especially when you can do it right in the country where it comes from."

Guerrero said her husband will be an excellent guide in that department, too. "He'll be looking for some good goat, that's for sure. He loves goat."