Return to Headlines
'Study Island' resource available to District students as snow days pile up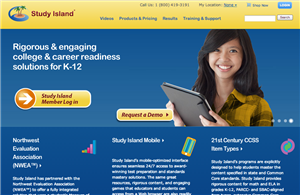 CMSD NEWS BUREAU
3/12/14
Yes, yet another winter storm was blowing outside Wednesday, but CMSD had arranged for its students to land safely on the online website "Study Island" and virtually pick up a "blizzard packet" to keep learning and preparing for tests, no matter the weather.

Study Island (studyisland.com), a web-based learning and test-preparation program, has been available to District students and families for several years but is really getting a workout this winter as severe weather causes calamity days to pile up throughout Northeast Ohio.
CMSD classes were called off Wednesday because of blizzard-like conditions expected in the afternoon.
"The best thing about the Study Island idea and the 'blizzard packets' we've developed is that it promotes continuous learning for our scholars," said District Chief Academic Officer Michelle Pierre-Farid. "But it is also accomplished in a fun way and gives parents a great option for what to do on a snow day to keep their child busy and productive."
Pierre-Farid said the blizzard packets were designed by the District to address academic needs specific to CMSD students, such as math and "deeper, high-level questions."
"A lot of urban districts from Boston to D.C. to California use this program to bridge gaps that are specific to them," she said. "We've had it for several years, but every single school has been connected since last year."
CMSD students in grades 2-12 and their families may use the site for lessons by using the user ID and password they've been provided by their school. The lessons were posted on the District's Schoolnet Outreach page: cleveland.schoolnet.com/
District Chief Executive Officer Eric Gordon said in a letter to parents and students that Study Island and Schoolnet offer CMSD students "
an opportunity to enrich their learning during inclement weather."
"By applying the knowledge and skills they have learned in the classroom, students will continue to build their core academic skills," he told families, also noting that the lessons, while planned with "academic purpose," are also designed to be "fun, interactive and motivational games to keep children engaged in 21st Century learning."
The Study Island website says its programs are designed to help students master the content specified in state and
Common Core
standards.