Return to Headlines
City Club panel extols benefits of 'wraparound' schools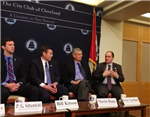 CMSD NEWS BUREAU
3/13/2014
CMSD's move to support schools with community "wraparound" services tailored to each building's needs will have far-reaching benefits, a panel said Thursday at a special City Club forum.
The District just
identified 10 more schools
where lead outside agencies will organize social, academic and recreation programs designed to help students succeed. The initiative
began with 17
schools in December, so the total now stands at 27, or nearly a third of the system.
"We are not going to solve this 40,000 kids at a time," Chief Executive Officer Eric Gordon said, referring to the District's total enrollment. "But we can solve this problem 400 kids times 100 at a time."
Besides Gordon, the panel included Bill Kitson, president and chief executive officer of the United Way of Greater Cleveland; Martin J. Blank, president of the Institute for Educational Leadership in Washington, D.C., and director of the Coalition for Community Schools; and Cincinnati Councilman P.G. Sittenfeld, assistant director of Cincinnati's Community Learning Center Institute.
In Ohio, a "community school" is a charter school, but in this context it means wraparound school. Cincinnati, which has operated wraparound schools for more than a decade, calls theirs community learning centers because of the interaction with the surrounding area.
Blank said youths in Cleveland and other cities face social problems that create both an achievement gap and an "opportunity gap." He said CMSD and the community share an interest in closing those gaps and can do so despite the region's economic difficulties by aligning existing resources.
"There are still institutions here that have assets and expertise," he said. "We want those people to come together in an intentional way to get the results that we need."
Sittenfeld said that after Cincinnati adopted the wraparound idea, the district climbed out of academic emergency and dramatically raised its state academic rating. He said working with the community has restored trust in the schools and secured voter support for tax issues.
The United Way has led the effort to pair agencies with the schools and contributed $500,000 to the first-year cost of $1.7 million. CMSD put in $500,000, and the rest came from other partners, including the Jewish Federation of Cleveland, the Cleveland Browns, Park Ohio Products Inc. and the St. Luke's Foundation.
Kitson said that raising the first round of funding was easy but that he would have to wait to see what happens as the number of wraparound schools grows.
Gordon said the first schools have already seen benefits. A health clinic that the MetroHealth System opened at Mound-STEM Elementary School helped 20 families to obtain medical insurance they didn't know they qualified for; a new Boys and Girls club inside Franklin D. Roosevelt Elementary School provides tutoring and recreation programs during and after school every day; and agencies working with Collinwood High School learned from students that their interest would be kindled by starting a boxing club, drum line and flag corps.
"I think we have a compelling story to tell," Gordon said. "I think there's a really quick way to make this an embedded practice."