Return to Headlines
NBC.com covers CMSD campus bus tour; national coverage follows EdWeek video, story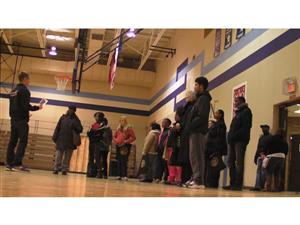 CMSD NEWS BUREAU
03/27/2014
MANSFIELD -- CMSD's College Bus Tours are going national.
No, that doesn't mean District students and parent/caregivers are suddenly booking cross-country campus visits to the sunny University of Southern California or Florida State in addition to the current Kent, Bowling Green, Ohio State (and more) circuit.
But it does mean that the District's innovative initiative to involve more Cleveland-area parents in choosing college for their children is starting to get some serious national attention.
On Thursday, a reporter for NBC.com joined a chartered busload of CMSD students and parents for a visit to the Mansfield campus of Ohio State University.
"We're interested in how an urban district like Cleveland, which has a reputation for not having the best schools, is making changes," said
reporter Nona Willis Aronowitz
, who writes about education and poverty for the NBC website. She has also written stories for The Atlantic, The Washington Post, The Nation and others.
"That includes this kind of program, which is getting parents involved who may not have had any college experience of their own," she said.
The college bus tours, part of the district's Parent University and run in conjunction with partner
CollegeNow Greater Cleveland
, are designed to expose urban students to college life – and hopefully inspire them to go on to higher education after graduation, District officials say.
Willis Aronowitz and freelance photographer Chris Langer, along with nearly 20 students, accompanied by parents or caregivers, toured the OSU campus, interviewing the families about their intentions for college and obstacles in getting there. Look for her story and Langer's photos to appear soon on the NBC.com site.
"I'm particularly interested in those who will be the first in their family to go to college," Willis Aronowitz said the day before the bus tour. "We want to look at what difficulties they face."
There were plenty of students on the trip who could end up as the first in their families to go to college, but a number of others were accompanied by college educated parents or grandparents.
Tanya Brown and her sophomore son, Demetrius Ivey, were on their first CMSD bus tour, but it was not Brown's first time around a college campus.
"I'm a college graduate myself and I want to make sure I'm pointing my son in the right direction for his education and his career," she said. "This is our future, this generation."
The two will also go on a tour of Washington & Jefferson College this Saturday.
"I want to go to college to major in criminal justice, to be a detective or a police officer," Demetrius said over a lunch of pizza and soda at the campus cafeteria.
The bus tours, which started last spring, had been written about in various District news reports over the last year. The program was also highlighted last year in Kaleidoscope Magazine, which featured Sharon Irby, a mom who decided to go to college herself after attending a trip last spring.
But in the last month, the college bus tours "have become the talk of the nation," said Tracy Hill, executive director of
family and community engagement
.
Hill was featured in an Education Week news story and video (see video below). The
story appeared online March 3
and in print on March 5.
An excerpt:
Under Ms. Hill's direction as the district's executive director of family and community engagement, Cleveland schools are in the midst of a cultural shift when it comes to parents. Rather than an afterthought, parent input is sought early and often and at all levels in this urban district in northeastern Ohio — whether it's for systemwide school improvement plans or implementation of new statewide reading benchmarks.
"There's not a parent out there who wakes up in the morning and says, 'I'm going to screw up my child,' " Ms. Hill said emphatically. "Parents who want to be involved just need someone who will show them the way."
Hill told Willis Aronowitz that when the program began last spring, some parents didn't realize they were part of the process, but now the concept is catching on.
The bus tours fired up again this year on Feb. 20 with a visit to Bowling Green. On Saturday, they will roll into Washington & Jefferson before two final trips in April: Ohio University (April 10) and the University of Cincinnati (April 17).
More than 1,000 people, students and caregivers, signed up for the trips this year, some of which require two chartered buses. Only one bus was needed Thursday.
"We are trying to demystify what college is," Hill said. She said an "awareness gap" remains, but added: "The word is out, and some of our parents are seizing this opportunity."

Hill told Willis Aronowitz in an interview Wednesday that for a long time the parents of Cleveland students were blamed for the poor academic performance of their children.

"I still hear that today sometimes," she said. "For a long time, some Cleveland parents were sitting on the sidelines, but now we're bringing them along for the ride, and all of them want the best for their children. We're changing the culture from 'Parents are the problem,' to 'Parents are our partners.'