Return to Headlines
More than 100 CMSD students head to spring break college tour with CTAG (video)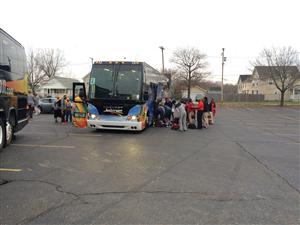 CMSD NEWS BUREAU
4/14/2014
More than 100 CMSD students hit the road early Monday for a three-day tour of colleges and cultural sites in southern Ohio and Kentucky— and you can go along for the ride.
Three chartered Anderson buses pulled out of the East Tech High School parking lot about 7:30 a.m., loaded with male ninth-graders from nine District high schools selected by the Closing The Achievement Gap program to make the annual College Experience trip. (See the
Video on our Facebook page
)
They will be back before the end of the week, but, meanwhile, you can see what they're up to via two social media channels for video and still photos,
Vine
and
Instagram.
Look for the hashtag #CTAGSpringBreak on either channel to see what the students are posting as they capture images in a type of social media scavenger hunt, said Yuri C. Thornton, a regional diversity coordinator for CTAG.
But, like the
District's college bus tours sponsored by Parent University,
the trip is likely to have an impact much greater than just a six-second Vine video or an Instagram photo or video.
"We're looking forward to a good trip with some young men who showed the individual achievements to deserve to come along," CTAG Diversity Director George Golden said Friday as he was still putting together final details for the trip. "College may not be for everybody in the end, but this gives these students exposure and the experience of what it could be like and at least takes them out of their own Cleveland neighborhood and shows them the possibility of higher education."
Golden said that statistics have shown that young, black males are most at risk of dropping out in their first year of high school and that CTAG was created out of a call to address that crisis.
"We target eighth-graders with certain risk factors," he said. "We then work with them through this important first year of high school so they can succeed later in high school and later in life."
Yolanda Adams had exactly those hopes in mind as she dropped off her son Jemar, a freshman at East Tech, and gave him a quick hug before he tossed his bag in the storage area under the bus and climbed aboard.
"He wants to make it to college because he knows that I didn't," she said. "He wants to be the first person in the family to go to college, and so far he's doing a good job because he's a high honor roll student."
The students, CTAG representatives and adult chaperones will make stops at Wilberforce, Central State and Kentucky State, Golden said. They will also squeeze in visits to the
National Underground Railroad Freedom Center
in Cincinnati and the
Muhammad Ali Center
in Louisville, Ky.
The Underground Railroad opened in 2004 and seeks to "reveal stories of freedom's heroes, from the era of the Underground Railroad to contemporary times, challenging and inspiring everyone to take courageous steps of freedom today," according to its website.
The Muhammad Ali Center's stated mission is not only to "preserve and share the legacy and ideals" of the boxing great, but to "promote respect, hope, and understanding, and to inspire adults and children everywhere to be as great as they can be."
Golden said each of the three buses will stop at the sites on different days so the adults have a smaller group to manage and the students get a more intimate experience at each college and cultural site.
Freshmen on the trip are from the John Marshall 9th Grade Academy, Rhodes, Lincoln-West, East Tech, John Adams, John F. Kennedy, Martin Luther King, Glenville and Collinwood.
CTAG was created in 2007 under Ohio Gov. Ted Strickland and in 2011 received support from the federal Race to the Top initiative under President Obama.
The program was aimed specifically at school districts with a three-year overall average graduation rate of 80 percent or less, which were then required to have a CTAG program in each school that fit that criteria.
CTAG "linkage coordinators" work in each school to "function as the primary mentors, life coaches, motivators and advocates for the male students in the program," according to the CTAG
page on the District website.
CTAG held its first college exposure trips in the spring of 2008, Golden said, but at the time each school sent its own bus to various sites.
"The funding changed a little bit, so we had to change the scheme of how we did things," he said. "But the idea is the same: Get them exposure to what could be for them."