Return to Headlines
CMSD principal at Wade Park wins statewide award; student also honored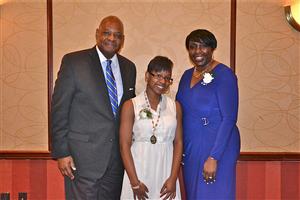 CMSD NEWS BUREAU
5/2/2014
The Ohio Alliance of Black School Educators recently named CMSD Principal Janet McDowell of Wade Park K-8 School as its Principal of the Year.
The alliance held its first Principal Appreciation and Student Recognition Banquet on April 5 as the Columbus Airport Marriott.
Wade Park eighth-grader T'Shawnna Donald was also honored as Principal McDowell's special guest, selected as a student with great accomplishments and leadership skills.
"It meant a lot to me to receive this honor because gratification is often delayed in education," McDowell wrote in an email recently when asked about the honor. "To be at the peak of my career and receive acknowledgment for primarily changing the culture of Wade Park , resulting in promoting a school climate conducive for learning, in one school year is thrilling.

"To sit among other principals from other districts in Ohio that received the same honor was humbling. I felt appreciated and privileged. "

McDowell has been with CMSD since 1999, teaching middle school math and science before becoming principal, according to a biography she provided to OABSE. She also taught African-American males in the REACH program during summer months.
McDowell served in the Army from 1986 to 2002.
Before working at Wade Park, she was an instructional leader at a Cleveland bilingual school, where she received state recognition for reaching the school's academic goals.
She is a member of the Cleveland Council of Administrators and Supervisors, Association for Middle Level Education, Association for Supervision and Curriculum, National Science Teachers Association and Ohio Association of Elementary School Administrators.
She co-presented at the 2009 National Middle School Conference and has mentored other principals in the District.
She has an associate degree from Cuyahoga Community College, bachelor's and master's degrees from Cleveland State University and a degree in religious studies from the Ashland University Theological Seminary.
McDonald said T'Shawnna had expressed her sincere gratitude towards her and her teacher Ms. Townsend.
"She said to be selected among so many other gifted scholars was inspiring," McDonald said. "She too shared the stage with other scholars from other Ohio districts and expressed herself eloquently as she shared her future aspirations."
T'Shawnna is in the gifted and talented program at Wade Park. She was accepted in the program at the beginning third grade.
She was recognized early for excellence in reading and writing by her reading intervention teacher, who noticed how quickly she would finish assignments. She has grown into a student who "adores writing" and one who has set goals for herself, according to a biography provided to OABSE.
She is also creative with a very vivid imagination and may seek a career as an author, poet or song lyricist — or an attorney.