Return to Headlines
Junior Achievement 'Blitz' Day brings career instruction to Louis Agassiz School (video)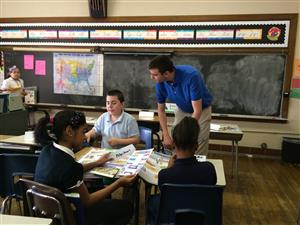 CMSD NEWS BUREAU
5/16/2014
When
Junior Achievement of Cleveland
volunteers visit Louis Agassiz K-8 School Cleveland's West Side, it's really not like a visit at all – it feels more like family getting together for the holidays.
Even down to the array of food – pizza, sandwiches, fruit salad, vegetable salad and cookies – brought in by both Junior Achievement and the school.
"I'm Greek, so if nothing else, there has to be enough food for everyone," Agassiz Principal Christine Hericks said with a smile.
There was also plenty of serious learning going on during the annual get-together at the school: Friday was Junior Achievement "Blitz" Day at Agassiz (and a handful of other CMSD schools.) Junior Achievement brings volunteers to 70 District schools during the course of each year, said Program Coordinator Kathyrn Baus.
"We focus on financial literacy, entrepreneurship and career readiness," Baus said. "We believe that it correlates very well with what CMSD is doing and the
Common Core,
as well."
Classrooms at Agassiz were bustling with activity, laughter and hands-on learning as 10 employees from the Cleveland office of auditing and tax firm KPMG spoke to students and played instructive games in classrooms all day.
"We've had this relationship with (Junior Achievement) for 13 years, and I've been here for the last 10 of those, so we know each other very well," Principal Hericks said.
Hericks said the connection this year with KPMG emphasizes math skills and how they relate to future employment.
"It helps the students connect with the community, the professional world, and also connect how what they learn in the classroom works out in the real world," she said. "We take pride in our school that we have a strong emphasis on those things that leads many of our eighth-grade graduates to move on to the STEM (science, technology, engineering and math) high schools."
In Mary Kirsch's fourth-grade classroom, KPMG auditor Jesse Ray was teaching the students a game in which they got to run their own hot dog business, including tracking revenue and expenses. (See video, above)
The KPMG volunteers were scattered throughout the school, even in the lower grades.
"You can't start too young," Hericks said. "We start from pre-k to instill goals into their lives, and today is just one more way to connect those goals with the real world, to help them understand the need for their education and that a good job doesn't just happen – it comes with applying what you've learned."