Return to Headlines
Educators challenged at Diversity Institute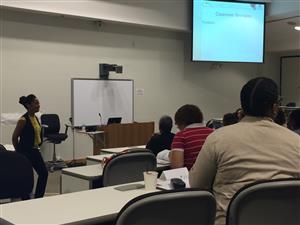 CMSD NEWS BUREAU
7/1/2014

Samantha Holmes said she was looking for a few "aha!" -- or what she called "bam!" -- moments from nearly 50 CMSD educators who were taking her two-hour "Barriers to Learning" training session Tuesday at the Barbara Byrd Bennett Professional Development Center.
She got more than her fair share, as a number of District educators said during the two-hour "Closing the Achievement Gap" training that they were challenged into a new way of thinking. Others said they appreciated new tools for successfully managing difficult situations specific to an urban schoolscape.
But Holmes also had her own surprise moment as she led the training, part of continuing education offerings at the training center over the summer.
"Sometimes it surprises me when I hear about their feelings of helplessness on the job," said Holmes, a diversity coordinator with CTAG. "They feel at times that 'I can't do it' or 'I don't have the support' or 'I need someone to help me.'
"That becomes my 'Bam!' because I want to be able to give them some of that support here, some strategies to help them in their classrooms and with our students."
Holmes' session, presented to another group of District educators by CTAG Regional Diversity Coordinator Yuri Thornton on Tuesday afternoon, is just one component of a five-week institute.
Other sessions include titles such as "Gender-specific Learning Styles," Educating with Poverty in Mind," and "Preconceived Notions – Stereotypes and Biases."
CTAG is an proactive intervention program created by the District to address the particular needs of young black males as they enter ninth grade, considered crucial for increasing their chances of graduation.
Tuesday's presentation was geared toward provoking educators to think about what barriers to education may exist for many of their students and then to consider what solutions might be available to them.
Among the barriers they identified were dealing with an often transient student population, low attendance, low expectations, racism or just better understanding students who come from a dangerous or violent neighborhood or are hungry when they get to school.
"Our session today actually focused more on looking at how do our educators understand our students' barriers," Holmes said. "But we didn't want to end the conversation there. We took the conversation from 'Yes, there are barriers,' to 'How do we move forward to strategies?' "
Some of those strategies were drawn from urban education advocate Christopher Emdin,
who led a workshop for CMSD students
and educators in May.
Emdin is a proponent of "reality pedagogy,
" or striving to teach and learn from a student's standpoint.
Holmes challenged the CMSD educators to think outside of conventional means.
"So how do you take that and make lesson plans that infuse hip hop into the sciences?" she said. "How do we take artifacts from our community ... a slide that becomes an inclined plane? How do we take a see-saw and talk about gravity? What are the things our students naturally do no matter if they are in poverty or not?"
Qiana Camp, a transition coordinator at Max S. Hayes High School, said she liked the idea of creating a "history walk" around an urban neighborhood.
"Even their own life is history," she said. "That idea, to help them make that connection to academics, really stuck with me."
Another educator said even the reminder of
Maslow's "Hierarchy of Needs,"
– the premise that individuals cannot focus on higher functions like school until more fundamental physiological and psychological needs are met – was eye opening in its relevance to daily teaching tasks.
Several teachers also remarked that a video presentation called "Survival Mode" reminded them that many of their students come to class despite sometimes severe economic troubles or life as single parents.
"Navigating poverty or the legal system can be crushing for even an adult, but can you imagine being 16 and dealing with that, and then being asked to think about schoolwork and a future beyond right now?" Holmes said. "Those are the kinds of things our teachers deal with, and we want to give them more strategies to reach those students."