Return to Headlines
Student researchers discuss survey findings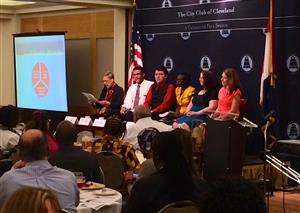 CMSD NEWS BUREAU
8/8/2014
Four present and former CMSD students opened a few eyes and stoked conversation about handful of critical education issues this week at The City Club of Cleveland.
Taylor Watson of James Ford Rhodes High School, Michael Sterritt of New Tech West High School, 2014 Glenville graduate La-Shaune Gullatt and Jayme Thomas, a graduate of the former East High Schoolwere on the panel
"We the Students: More than Just a Number" on Thursday at the City Club.
The students presented findings from research they conducted with
Anne Galletta,
an associate professor in the College of Education and Human Services at Cleveland State University and Carly Evans, a Brush High teacher and CSU researcher.
The high school students surveyed 259 ninth-graders at seven CMSD high schools (East Tech, Glenville, John Adams, New Tech East, New Tech West, Rhodes and Washington Park) during the 2012-13 school year about issues ranging from how they get to school to bullying to gauging their relationships with their teachers.
But one statistic had the crowd murmuring maybe more than others: About 40 percent of the students surveyed said they had changed addresses five to nine times since kindergarten.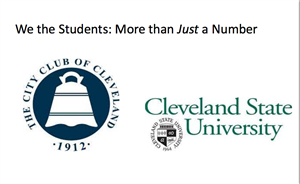 "Frequent moving can negatively affect students' grades and relationships," said Thomas, who now attends Cuyahoga Community College and is a member of City Year Cleveland. "Not only that, but students who moved a lot also reported more bullying."
Slightly more than half (52 percent) of the students surveyed said they were bullied "sometimes" or "many times," Thomas said.
Each of the four students said they hoped the result of their research would be increased awareness among students, teachers, parents and policymakers about some of the acute needs facing teenagers early in high school.
"So often student voices go unheard," Taylor Watson responded. "If teachers saw (this research), maybe they would say 'Oh, maybe I should get to know my students more. That would not take away from the classroom experience, but add to it."

Each of the other three student researchers agreed, citing "more awareness" or "relationships with teachers" as a key to improving their high school experience.

The full report will eventually be published online by CSU, Galletta said. She said while the sampling was actually fairly small, less than 7 percent of the District's ninth-graders, the results could help shape policy and engage the public in the issues facing students.
Galletta said she believes the research could open the door to a fuller consideration of the real needs of students in the education equation.
"We chose the title "We the Students …" because we wanted to draw attention to the way students see themselves and the way they are seen by others as a number," she said. "But the themes we've identified are also located in national, local, historical and in policy.
"The context is that it has been 14 years since 'No Child Left Behind,' five years since 'Race to the Top' and two years since House Bill 525 (
The Cleveland Plan
)."
She credited District Chief Executive Officer Eric Gordon for responding last January to one of the clear concerns reflected in the survey: the number of CMSD high school students walking as far as 3 miles to school. The students can now ride RTA for free if they live more than a half-mile from school.
The student researchers had other CMSD students role-play for the City Club lunch crowd some of the common concerns expressed by their peers, like "I walk two miles each day, and my parents don't have time to take me to school," "I'm slightly scared of riding the RTA" and "I like taking the bus, but it takes too long to get to school."
Gordon and other CMSD officials attended the hourlong panel discussion and Powerpoint presentation.
"I'm incredibly proud of each of you," Gordon told the students when he stepped up to the microphone during a question-and-answer period.