Return to Headlines
Staff view construction of new Max Hayes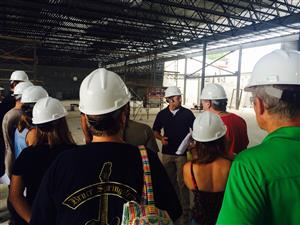 CMSD NEWS BUREAU
8/11/2014
Dozens of teachers and other staff from Max S. Hayes High School donned hard hats and safety glasses Monday for a tour of a new building that the school will move to next year.
John Marshall High School and the Cleveland School of the Arts also will shift to new buildings next year. The three projects are made possible by a bond issue that voters approved in 2001 and state funding that covers more than two-thirds of the cost.
The new Max Hayes, at West 65th Street and Clark Avenue, will provide a state-of-the-art replacement for the existing school that opened on Detroit Avenue in 1957.
Work is about 65 percent complete, said Gavin Smith, director of construction management for Richard L. Bowen and Associates Inc. Bowen and the Albert M. Higley Construction Co. are partners in a joint venture handling the construction.
The building will soon be enclosed so interior work can continue in cold weather and keep the building on pace to be ready for the 2015-16 school year, Smith said. He said parking lots are to be paved this year.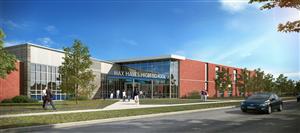 The two-story, 170,000-square-foot building will have space for 800 students. The design includes overhead doors for access to shops, glass-enclosed locations that show off mechanical systems and outdoor spaces where students can undertake construction projects and operate heavy equipment.
A manufacturing advocacy group, WIRE-Net, with support from the Cleveland and George Gund foundations, led planning for a school that would better meet the demands of the modern workforce.
Supporters believe the new Max Hayes will be among the
best career-technical schools in the country
.
Chris Scarcella, a curriculum instruction specialist, took the tour Monday.
Scarcella said the new building will make teachers more efficient by grouping specialties and linking classrooms to work areas. He said that until the construction began to take shape, teachers were skeptical that they would ever see a new building.
"There's a lot of excitement now," he said. "We want to be that 21st Century learning environment where students are learning but also applying what they have learned."
CMSD and the state previously built 31 schools and fully renovated seven others.
The Board of Education recently
approved a revised master facilities plan
that calls for building as many as 20 more schools and refreshing 23 to 25 others. The new schools would replace and consolidate larger, obsolete structures.
The Ohio Facilities Construction Commission will pay 68 percent of the cost of new schools in the plan, but that is dependent on voters approving a tax issue the school board has placed on the November ballot.
A single question on the ballot will include both a $200 million bond issue for construction and renovation and a half-mill property tax for building repair and maintenance. But through aggressive repayment of existing debt, the District has taken steps to ensure that property owners would pay no more in taxes than they do now.