Return to Headlines
Hispanic symposium set for Wednesday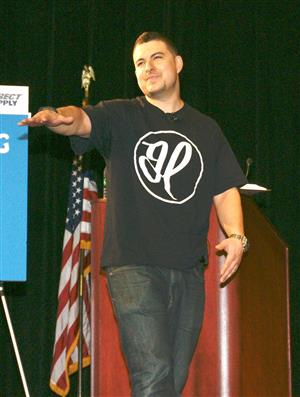 CMSD NEWS BUREAU
10/10/2014

Roberto Rivera will stand up Wednesday morning before about 200 mostly Hispanic young men who will likely envy his success and even try to copy the path he took to achieve it.
And he's fine with that.
The 30-something motivational speaker will be the featured guest at the Hispanic Symposium Student Summit and Educator Conference on Wednesday at the 78th Street Studios in Cleveland.
Rivera will speak to students in the morning and educators and community members in the evening. CMSD's Closing the Achievement Gap program will host the symposium, which is supported by the education advocacy group Esperanza Inc.
The student session is filled, but slots for community members still remain at the free evening program, which will run from 4:30 to 7:30 p.m. and include dinner. CTAG officials said they would accommodate anyone who is interested.
"I'm coming in as a big brother, someone not as young as them, not as old as their parents, but someone who not only understands where they are but can show them where they can go," Rivera said in a phone interview from Chicago. "Being a Latino man, I understand their frame of reference, but I also understand that the media and the world have labeled them in a way that holds them back.
"I can help them create a new way of living authentically, and we do that by 'sampling,' like you do in a rap song with existing music, from the examples of their parents and other adults like me, and then take an active role in remixing that for their own lives."
Rivera runs
The Good Life Organization,
which is an "international organization that builds capacity in local leaders to support the positive development of youth for the purposes of enhancing democratic participation and academic achievement," according to its web site. Its goal: "To create and sustain change at a community level that will consequently have a national impact by unifying, equipping, and building capacity in local leaders to powerfully and creatively solve longstanding social issues."
CTAG is designed specifically to help African-American and Hispanic male students before and during their critical ninth grade school year. Studies have shown that those students are most at risk of dropping out of school in their freshman year.
"That's why we wanted to bring Roberto in," said CTAG Diversity Director George Golden. "He beat the odds himself, and now he's working on his next college degree. He's here to give them hope."
CTAG Diversity Coordinator Samantha Holmes said Rivera is probably the youngest keynote speaker ever for a symposium, but organizers felt that he could readily connect with both the student and adult audiences.
"He talks about everyday heroes, and that's what we need in our schools," Holmes said. "Our graduation rates are up for CTAG students and especially for Hispanic students, but there's still a big gap, and the skills he'll help them with will help that."
Rivera said his goal is to help the young men reshape their view of themselves.
"Media images and words are telling them who they are: a consumer, not a producer," he said. "They are being told that they are not powerful, but only an upholder of the status quo."
He said his own life story offers an example of someone overcoming labels given by others.
"I went to 13 different schools before high school, and I was told I was LD (learning disabled)," he said. "Now, I'm running my own company and going after my PhD. I don't say that to boast of myself but to tell them that you can't let media define you, you can't let even your own folks uphold a stereotypical view of who you are."
"We just believe at Goodlife that young men of color, we have it all wrong as to who they are. Society frames them as its greatest liability. We see them as its greatest asset."