Return to Headlines
MetroHealth brings mobile clinic to more schools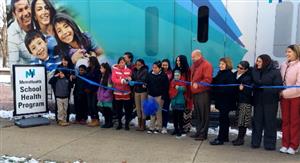 CMSD NEWS BUREAU
11/19/2014
A ceremony marking the arrival of the newest MetroHealth System mobile health clinic could not have come any sooner for the students standing outside Luis Muñoz Marin School on Castle Avenue.
"Do you think they can they treat frostbite? Maybe some sort of cream?" one eighth-grade girl joked as students, staff, Principal Jeffrey Keruski, school nurse Jane Saloka and other school district and hospital officials bundled up to head outside in unseasonably cold temperatures.
Students cut the ribbon before going back inside for refreshments. Keruski gave them the honor, saying the mobile clinic will benefit them and their families the most.
He thanked
MetroHealth
for being a "graceful partner" in the effort to bring full health services to CMSD schools.
"It's your contribution to the overall support of Luis Muñoz Marin that makes a difference," Keruski said. "When we look at how we service our scholars, we have to go beyond academics and to the social, emotional and the physical. With this project, we are going to be able to provide a service to our families that is much needed. We will try our best to fill that clinic because to be academic scholars, our children need to be here and they need to be healthy."
The hospital system opened an
in-school clinic at Mound STEM PreK-8 School
in the Slavic Village neighborhood and a
mobile clinic at Lincoln-West
High School during the 2013-14 school year. MetroHealth
plans to bring health services to a total of 11
more CMSD schools this year. More sites will open over the course of the next week.
"I'm just so thrilled with this, and now it's up to us, up to me, to get our families involved," Saloka said. "I think it will be a matter of getting them to trust this as I believe they already trust me."
Initially, about a third of Mound students and 20 percent of Lincoln-West students took advantage of the services last school year, hospital officials said. Saloka said she hoped to get more Luis Muñoz Marin families involved during the course of this school year.
This year's list includes three more high schools -- John Adams, Max S. Hayes and Garrett Morgan School of Science -- -- as well as Harvey Rice, Anton Grdina, Miles Park and Walton elementary schools and Thomas Jefferson International Newcomers Academy, a K-12 school for arrivals from other countries and Puerto Rico. Also, students from Willow and Fullerton elementary schools will be transported to the clinic at Mound.
MetroHealth's clinic and mobile unit will be open to students a half-day per week. A physician or nurse practitioner and medical assistant will offer services such as urgent care, immunizations, sports physicals and basic lab tests. A mental health professional will provide referrals for those services.
The medical services are designed to help reduce chronic absenteeism that interferes with education. MetroHealth staff will supplement District nurses who are stretched thin rotating among 90 buildings.
"We've really been working on this idea for nearly a decade and now it's really happening," said Deborah Aloshen, CMSD director of health and nursing services. She said the clinic could bring much-needed medical care to CMSD families more immediately, as well as save time for both students and parents.
Medical treatment is free for students, if they are not covered by insurance.
MetroHealth, which has helped a number of the students' families obtain health coverage, picked schools near the system's medical centers in hopes the families will regularly visit those facilities. Many Cleveland families turn to hospital emergency rooms for routine care, officials said.