Return to Headlines
New CSA building to come with academic changes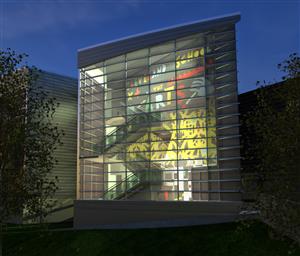 CMSD NEWS BUREAU
12/1/2014

The
Cleveland School of the Arts
will return to University Circle next year, after crews finish work on a new building, but change will go much deeper than meets the eye.
CSA, which has served grades 6 through 12, will begin transitioning over two years and become a high school only. The high school will beef up both its arts and academic offerings.
"We want to make sure we have depth and breadth of arts instruction, with a rigorous academic curriculum as well," said Tony Sias, who is the school's artistic director and works with arts faculty on signature events.
At the same time, CMSD will begin enriching arts education in K-8 schools across the District to create a stronger feeder system for the high school. The Cleveland and George Gund foundations have each awarded CMSD two-year, $225,000 grants to strengthen arts education and partnerships with Cleveland's thriving arts organizations.
"Our work with the Cleveland School of the Arts faculty, staff and arts community is an inspiring example of
The Cleveland Plan
in action," said Christine Fowler-Mack, CMSD's chief portfolio officer.
The Cleveland Plan
, a state-approved blueprint for education reform, calls for providing a portfolio of high-quality options, which includes strong community engagement.
"The enhancements will allow us to expand programming and the number of high school seats available," she said. "The timing of this work is perfect, as academic planning was able to take place at the same time as the new facility plans were being envisioned. We are thrilled for our students and staff, and I am grateful to the arts and Cleveland communities for their support."
The Cleveland School of the Arts now has 559 students in grades through 6 through 12 in temporary space at the former Harry E. Davis Middle School. The new CSA will hold as many as 775 high school students.
Dike, an East Side K-5 school also known as the Cleveland School of the Arts Lower Campus, has historically provided a majority of new sixth-graders for CSA, even though students from across the District and beyond could apply for admission. CSA requires prospective students to audition or submit portfolios before entering programs in visual arts, literary arts, theater, dance, vocal music or instrumental music.
Along with other K-8 schools, Dike is expected to continue emphasizing the arts. But it will add upper grades and no longer be associated with CSA, which was founded as a magnet school during the District's desegregation era.
Mitchell Korn, an arts planning expert and adjunct professor in the Vanderbilt University Blair School of Music in Nashville,
has helped CMSD to plan
the CSA transition and begin developing arts education throughout the District.
Like the District's new and innovative schools, CSA will have its own advisory board. The board will build on the work of the
Friends of Cleveland School of the Arts
, a fund-raising group that has generated millions of dollars since its founding in 1982.
CSA's recruiting for next school year will focus on ninth-graders. The school will accept new students in the seventh and eighth grades, as well as 10th- and 11th-grade transfers, if space is available.
Parents and students can learn about the school during open houses that are scheduled from 9:30 a.m. to 12:30 p.m. Wednesday and again on Jan. 15 at the former Harry E. Davis Middle School, 10700 Churchill Ave.
To register, click here
.

The school will conduct an audition boot camp from 9 a.m. to 3 p.m. on Saturday, Jan. 31. Prospective students will get help from artists on audition etiquette and technique and get feedback on mock auditions.

CSA will hold formal auditions at 9 a.m.. Saturday, Feb. 28.
The Cleveland School of the Arts, John Marshall High School and Max S. Hayes career-technical high school will all move into new buildings next year.
John Marshall
and
Max S. Hayes
also will have new programming.
The new buildings are among 41 construction and renovation projects that the state and CMSD launched after the gym roof at the former East High collapsed 14 years ago. Voter approval of Issue 4 on Nov. 4 will allow the state and District to finish the work by building 20 to 22 more schools and remodeling 20 to 23.