Return to Headlines
Students give 'A Christmas Carol' new twist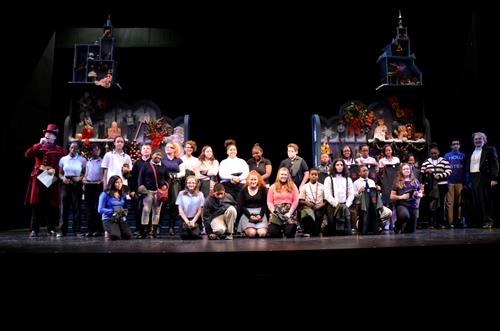 CMSD NEWS BUREAU
12/9/2014
The creative re-imagining of Charles Dickens' classic "A Christmas Carol" by students from the Cleveland Metropolitan School District has become a holiday tradition.
Stories penned by CMSD students this year for the 26th annual Great Lakes Theater contest include a fanciful online blog from the Ghost of Christmas Future and a poignant account of the events from the point of view of Belle, the young woman Ebeneezer Scrooge leaves behind in his youth for the lure of his counting house.
The
Great Lakes Theater
received 52 winning stories from 25 CMSD schools, chosen from more than 1,800 entries.
Each school then submits one winner per grade level (6-8) to theater's education department, where the essays are judged by a panel of local educators, artists, and community members. Six grand-prize winners are chosen, two per grade level.
The grand-prize winners receive free tickets to "A Christmas Carol" and other prizes, said the theater's David Hansen. The play runs through Dec. 23 at the Ohio Theatre and
tickets are available online.
All of the participating CMSD students were also treated to a special matinee performance of the play earlier this month. When the performance was over, the winners from each school were brought up on stage and given T-shirts and met members of the acting company (see photo above).
WCPN will likely broadcast the "Sound of Applause" program again before the Christmas holiday. Meanwhile, you can listen to the program on the player below or
on the WCPN website.
The 2014 winners selected to be performed by GLT actors are:
Laurie J. Bocachica - Douglas MacArthur Girls' Leadership Academy, eighth grade
Emily Pikturna, McKenna Jablonske and Xavier Rivera - Newton D. Baker, eighth grade
Emily Gorman - Douglas MacArthur Girls' Leadership Academy, seventh grade
Yamaiya Jackson - Whitney M. Young Leadership Academy, seventh grade
Franny Marshall - Riverside Pre K-8 School, sixth grade
Donovan Reed - Whitney M. Young Leadership Academy, sixth grade