Return to Headlines
President praises PRE4CLE at White House summit
CMSD NEWS BUREAU
12/10/2014
President Obama praised the PRE4CLE preschool expansion initiative on Dec. 10, citing it as a top example of "bringing entire communities together on behalf of children."
PRE4CLE
, an effort by CMSD and other providers to make high-quality preschool available to as many Cleveland children as possible, played a prominent role at a White House summit on early-childhood education. Besides earning praise from the president, the initiative was in the spotlight during a panel discussion that featured District Chief Executive Officer Eric Gordon.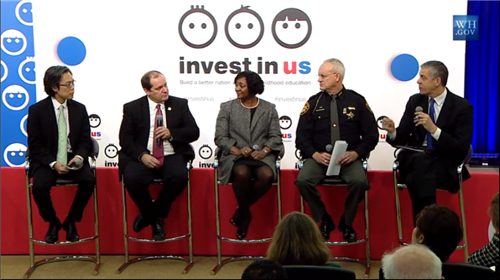 Cleveland will not share in $750 million in grants announced by Obama but is doing a lot on its own. The president heralded $10 million in commitments made to PRE4CLE over the next three years.
The total includes $900,000 in grants from the Cleveland, George Gund and PNC foundations that were announced the day of the summit. The balance will come from Cuyahoga County, which is giving $1 million, and the District.
Cleveland and Gund will each contribute $300,000 in a lump sum, while PNC spreads its share over three years.
"We are grateful for this local investment because it means hundreds more of Cleveland's children can attend the very best preschools in their communities so they can enter kindergarten ready to learn and succeed in life," PRE4CLE Director Katie Kelly said.
Summit participants stressed the potential of high-quality preschool to help children thrive in school and careers, increase their earnings, reduce crime and stabilize families.
Despite progress, less than 30 percent of the nation's 4-year-olds are enrolled in high-quality preschool, said Obama, who first called for broader access in his 2013 State of the Union address. He said raising those numbers is a priority that crosses political boundaries.
"It's not a red issue, it's not a blue issue," he said. "It's about doing what's best for our kids."
Better access to high-quality prekindergarten is a key component of
The Cleveland Plan
, a state-approved blueprint for education reform in the city. PRE4CLE, which was launched this year, will focus first on 4-year-olds and will eventually expand to 3-year-olds.
The network has
already added 335 slots
– 260 of those from the District – and seeks to create 2,000 by 2016. The 260 seats that CMSD supplied raised the District's total by 25 percent, to 1,020.
According to the Center on Urban Poverty at Case Western Reserve University, Cleveland had 3,530 seats in high-quality preschools last year, but only 2,857 were filled. That was with children ages 3 to 5. The city had more than 13,000 children in that age group.
PRE4CLE was formed to market and increase the number of preschools certified by the state as high quality. The network hopes to eventually assist families with paying for transportation and tuition, barriers that can prevent them from taking advantage of preschool. CMSD offers prekindergarten for free.
The White House summit attracted leaders of government, education, philanthropy and business, along with others who are trying to broaden access to high-quality early-childhood education.
Gordon was a part of panel that discussed "public investment leadership" in early education. U.S. Secretary of Education Arne Duncan moderated the discussion, which also included W.K. Kellogg Foundation President La June Montgomery Tabron, New York University Professor Hirokazu Yoshikawa and Sheriff Russell Martin from Delaware County in central Ohio.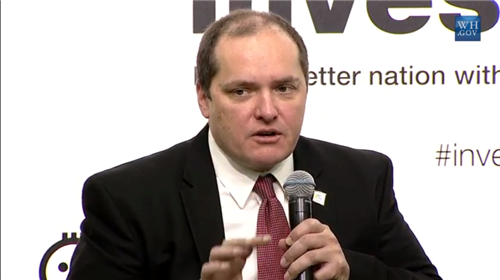 The CEO said the need for better access to high-quality preschool was evident from data that showed only about half of CMSD students were entering school kindergarten-ready. He said the ratio was the same when it came to being prepared for third-grade reading tests and middle-school math tests.
"If I don't have to spend 13 years solving a problem, I'm going to be much more successful for the kids that I serve," he told Duncan.

Gordon gave credit to Mayor Frank G. Jackson, community partners and a bipartisan coalition of state and local officials for getting behind The Cleveland Plan.
Expanding high-quality preschool in an urban school district requires time and "urgent persistence," the CEO said. He said the collaboration in Cleveland would survive changes in leadership among participating groups.
"We built an interdependency," he said. "If any one of us doesn't pull our weight, the entire system unravels."

Julian Castro, U.S. secretary of Housing and Urban Development, and Roberto Rodriguez, a special assistant to Obama on education, stopped in Cleveland in late October to build awareness of the summit.
They attended a private roundtable discussion for community leaders and visited the Bingham Early Learning Center on Central Avenue. Castro, who led a preschool expansion as mayor of San Antonio, lauded PRE4CLE in a news conference at Bingham.

"America is watching Cleveland and communities like it that are taking bold steps in early childhood education," he said.