Return to Headlines
Student advisory committee gains momentum (video)
CMSD NEWS BUREAU
1/9/2015
Dozens of CMSD high school students came together Friday to improve their system of education – and help the District comply with state law.
Chief Executive Officer Eric Gordon's Student Advisory Committee was established last school year in response to the law that launched
The Cleveland Plan
, a customized blueprint for education reform.
Delegations from nearly 30 schools met Friday morning for the second time since classes resumed in August. Gordon has assured the students that he gives their agendas careful consideration – and, he told the teenagers, signs indicate they are reciprocating.
"You're taking it a lot more seriously," he said. "You're growing. Keep doing it."
Just the site of the gathering – a large third-floor area at Windows on the River -- was evidence that the students are being heard.
After a session in October, students complained because their large numbers had to be spread across two conference rooms at CMSD's Barbara Byrd-Bennett Professional Development Center in Bratenahl.
They also asked for time to mix with peers from other schools. Gordon tended to that immediately Friday, instructing the teens to leave their home tables, introduce themselves to someone from another school and strike up a conversation.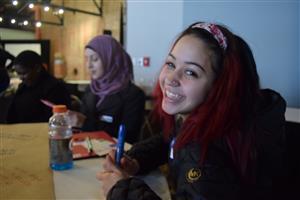 The students then gathered in small groups and got down to business. On sheets of paper spread across circular tables, they jotted down suggestions, just as Gordon requested.
(See photos at right and below by Collinwood High student photographer Emmanuel Calloway.)
"It is really important to catch every single idea," the CEO told them. "There are no bad ideas. This is brainstorming."
The thoughts came abundantly in the hues of colored markers: Improve teaching, security and cafeteria food. Start social justice or culture clubs, offer more field trips, bring in more speakers. The points will be compiled for Gordon.
Jayvon Pruitt, a junior at Design Lab Early College, said he sees no evidence of bullying at his school, but the talk of his table was a need for more programs to combat bullying in the community. He enjoys having the CEO's ear.
"He's actually listening to us," Jayvon said.
Like Jayvon, Cashalynn Bolden, a senior at Glenville, served on the advisory council last year. She said the impact shows at her school, where she said security grew stronger after council members made an appeal.
Nicolas Jordan, 18, said fellow students at Thomas Jefferson International Newcomers Academy, for new immigrants and refugees, have asked him to lobby for more activities. Nicolas, who came to the United States from Colombia two years ago, is happy to assist.
"That's why I'm in this group," he said. "I want to help other people."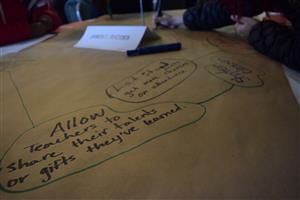 Keynote speaker Nina Turner, who recently ended a six-year run in the Ohio Senate, entertained and inspired
her young audience with evangelical style.
Turner, a graduate of John F. Kennedy High School, made references to Helen Keller, Cleveland writer and activist Langston Hughes and rapper Tupac Shakur as she encourag
ed the students to
break free from the challenges that surround them.
After her mother died in poverty at the age of 42, Turner said she vowed to become a "cycle breaker" in her mom's memory. She earned three college degrees, won election to Cleveland City Council and the legislature and, last year, ran for Ohio Secretary of State.
Turner supported
The Cleveland Plan
but only on the condition that the legislation give students a say in their education.
"In every great movement in the history of this nation, young people have been involved," she said. "You have ideas that can make the environment in which you learn better. I believe in you."
Turner said the advisory committee is "exactly what I wanted."
"This group is a beautiful thing," she said. "This can empower them to change the culture in their school."
The committee will meet twice more this school year, in March and May.