Return to Headlines
New GE scholarships to help District STEM students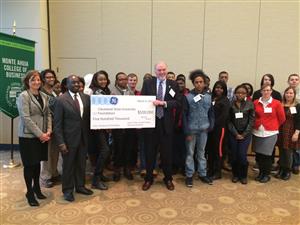 CMSD NEWS BUREAU
3/4/2015
An investment from partners GE and Cleveland State University in District STEM students, particularly students from
MC²STEM
High School, took another leap forward Wednesday.
GE committed $500,000 toward full-tuition scholarships for CMSD students pursuing a science, technology, engineering or math major at CSU, according to the university. The GE Scholars program was launched in honor of the university's 50th anniversary and will provide five full-tuition scholarships each year for 10 years.
The scholarships will be available to sophomores, juniors and seniors, with preference given to graduates of MC²STEM and CMSD graduates in STEM major programs. S
tudents who complete an internship or co-op with GE can qualify for renewal of their scholarships.
"We are very appreciative of GE's investment in our students," said CSU President Ronald M. Berkman. "GE Scholars will benefit greatly from the financial support as they receive invaluable connections to career opportunities and mentors in high-demand fields."
MC²STEM students spend their freshman year at the Great Lakes Science Center before moving to GE Lighting's Nela Park campus in East Cleveland for 10th grade and then CSU's downtown campus for the 11th and 12th grades.
"We are so excited and proud to announce our commitment to Cleveland State University through the GE Scholars Program," said Maryrose Sylvester, president and chief executive officer of East Cleveland-based GE Lighting. "We are looking forward to CSU continuing to provide the diverse talent pipeline that GE needs to succeed in the 21st Century."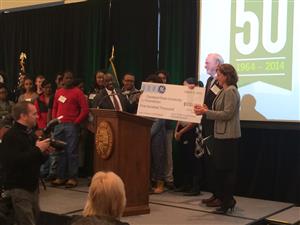 "STEM education is the key to drive future innovation in our global economy," said Russell Stokes, senior vice president and chief executive officer of GE Transportation, which is based in Chicago. 'We expect that some of the next great inventors will be the students right here in the Cleveland Metropolitan School District, and we want to give them every opportunity to reach their potential by establishing the GE Scholars program at Cleveland State University."
Students interested in learning more or applying for the scholarships can find more information
here.
(Cleveland State University provided information for this story.)