Return to Headlines
Rotary Club of Cleveland honors scholar-servants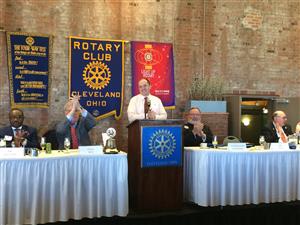 CMSD NEWS BUREAU
3/13/2015

District CEO Eric Gordon and the Rotary Club of Cleveland on Thursday honored 110 seniors from nearly two dozen high schools selected by the Rotary as "Who's Who in the Cleveland Metropolitan School District" at the 37th Annual Thesmacher High School Recognition Day, held at Windows on the River in Cleveland.

The scholars were lauded for their academic achievement and exemplary service to their schools, faith-based organizations and communities.

The Rotary held a "New Generations Conference" prior to the luncheon morning when the students, with the help of Rotary facilitators, brainstormed ideas for helping their schools.

CEO Gordon promised that students that their work in the morning hours would not go unnoticed.

"We actively learn every year how to improve your high school experience through this event," Gordon said. "The work you did today in this forum does not just get hung on chart paper today, but is used as a report to me and to all of our schools."

The CEO noted that CMSD students have been increasingly interested in talking about a wider array of issues regarding their own education.

"When I came to this district eight years ago, we could predict exactly what your greatest concern was going to be – schools not safe," Gordon said. "Two years ago, safety dropped to number two and last year, dropped to number three."

While the full report on Thursday's session was not yet complete, Gordon said "safety" did not appear to even be mentioned by many students.

"But you do want to talk about the quality of your teachers, about whether you are testing or learning , about carreer and college readiness and how you can integrate into your community as respected peers and respected young adults by a community that doesn't always see you that way," Gordon said. "Those are things we want to hear, that we need to hear from you."

Austin "Dean" Linden III, chair of the Rotary's Youth Service Committee, said "as always, the breadth, variety and astuteness of the observations were remarkable" and impressed him and the other Rotary facilitators.

Inspirational speaker the Rev. Jerome "Jae the Gospelkidd" Williams," director of Youth Ministries at First Baptist Church of Cleveland, also spoke at the luncheon.