Return to Headlines
Aspiring Principals start boot camp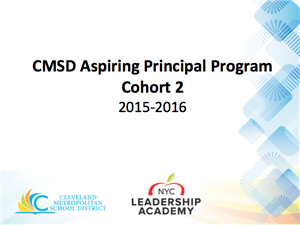 CMSD NEWS BUREAU
6/29/2015
Ten prospective principals have reported for a year of training, starting with a demanding five-week boot camp.
CMSD's second
Aspiring Principals Academy
got under way Monday at the East Professional Center with what is officially called a "summer intensive."
Candidates will be thrust into simulated school situations in sessions that run from 9 a.m. to 5 p.m. Monday through Friday. Some members of the academy's first graduating class said the training was invaluable but called "intensive" an accurate description for the camp.
Chief Executive Officer Eric Gordon gave the hopefuls a warm welcome Monday. Yet, he made it clear that expectations run high in a District that believes school reform begins with building principals.
"You have got to be great for my kids," he said.
Under
The Cleveland Plan,
a citywide blueprint for education reform, CMSD is shifting the central office to a support role and giving schools broad responsibility for hiring, spending and programs tailored to their students' needs.
Building leaders must be "individually and collectively courageous," the CEO said. He said that means the District wants principals who take risks but not if they are divisive mavericks who quickly flame out.
CMSD received 184 applications for the 2015-16 academy and interviewed 65 applicants.
Seven women and three men were chosen. Three candidates already worked for CMSD, while the others came from the outside, including applicants from Arizona, California, Illinois, South Carolina and Virginia. The group is diverse, with three black members and two who are Hispanic.
Aspiring Principals work for a year alongside a mentor principal who delegates them responsibilities. The candidates are paid $75,000 plus benefits.
Those who graduate must interview for jobs and are not guaranteed positions. Of 10 applicants picked for the first academy, six have been appointed as principals for the 2015-16 school year and two will serve as assistant principals.
The principals include Katie Francis, Orchard STEM School; Melanie Nakonachy, Mary M. Bethune School; Anne Priemer, Oliver H. Perry School; Bill Wingler, Louis Agassiz School; Timothy Primus, John Marshall School of Engineering; and Chelsey Cook, John Marshall School of Information Technology.
"We are very, very proud of this program and its success rate," Gordon told the group Monday.
The
NYC Leadership Academy
helped CMSD develop the Aspiring Principals program. NYCLA began training New York City principals in 2003 and now works with districts across the country.