Return to Headlines
Four year-round schools start classes (video)
CMSD NEWS BUREAU
7/27/2015
The District's four year-round high schools resumed classes again Monday after a three-week break, officially beginning the 2015-16 school year.
A second new freshman class has arrived at the two JFK high schools --
E³agle Academy
and
PACT
.
E³agle and PACT both opened in the 2014-15 school year, launched with the help of a $3 million grant from the Carnegie Corporation of New York.
E³agle (the three E's are Envision, Engage and Excel) uses the Socratic Method of inquiry to engage students in critical thinking, with a focus on leadership development and active learning. PACT stands for the Problem-based Academy of Critical Thinking.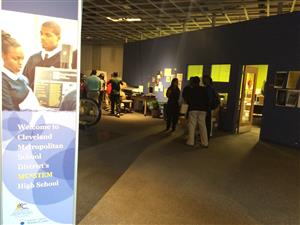 At the Great Lakes Science Center, dozens of new freshmen at
MC²STEM High School
were led by teachers through the lower floor of the interactive museum to get checked in for their first day. Others were out on the front lawn to learn more about the wind turbine that can be seen from Lakeside Avenue or the West Shoreway and other features of the center.

Freshman in the school attend courses at the Science Center on Northcoast Harbor, sophomores are at GE's Nela Park facility and juniors and seniors are on the campus of Cleveland State University in Rhodes Tower.

MC²STEM ninth-grade Principal Adam Sinclair said everything was going smoothly on the first day, if consisting mostly of logistical and organizational matters.

Physics teacher Rita Mikita led her first class into a room and began to prepare them for a first week that is already booked with experiments and some interaction with NASA, which also has its visitors' center on the grounds.

"They're a little shy right now, but things will pick up fast and get crazy quickly," she said. Mikita said her coursework this grading period would focus on sustainability issues.
Classes also started Monday at another of CMSD's innovative high schools downtown as students returned to the
Cleveland High School for Digital Arts
, which is starting its second year. The high school, in partnership with the Center for Arts-Inspired Learning, integrates the digital arts into a college-preparatory curriculum.