Return to Headlines
CEO rallies principals for attendance campaign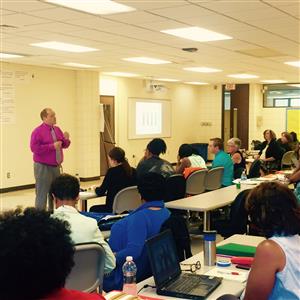 CMSD NEWS BUREAU
8/5/2015
CMSD Chief Executive Officer Eric Gordon turned to his dual role as campaign leader Wednesday, rallying principals to promote good attendance even before schools return from summer vacation.
The District kicked off the
"Get to School, You Can Make It!"
attendance drive two weeks ago and immediately went to work. Billboards and yard signs have sprouted, Radio One is airing commercials and volunteers have hit summer events, getting parents and others to sign pledges of support.
Principals, who gathered Tuesday and Wednesday at the East Professional Center, will clearly be key to reducing a high rate of chronic absenteeism, defined as missing 10 days or more in a year. The problem affects school districts nationwide.
Gordon called on principals from CMSD's 100 schools to saturate the community with a message that attendance matters. He urged them to repeatedly highlight internal research that shows missing that many days can lower scores on state reading tests by 12 points, decrease math scores by 15 points, reduce a young child's chances of complying with Ohio's
Third Grade Reading Guarantee
by 9 percent and make it 34 percent less likely that a ninth- or 10th-grader will graduate.
"This is not national data, this is not state data," the CEO said. "These are our kids."
The campaign slogan sends the message to students that by working hard in school, "You can make it today, you can make it tomorrow, you can make it to your goals."
Gordon said he was meeting with different employee groups, encouraging bus drivers, secretaries, cafeteria workers and others to seek out children who have been absent and warn them of the effects. He said telling the children they were missed would warm the hearts of students who "want you to miss them."
Schools can use automated phone calls to promote good attendance and notify the parents of children who are absent, Gordon said. He stressed the need to get up-to-date cell numbers and email addresses.
The CEO said principals will form committees to work on strategies for improving attendance and said they should "brand everything" with reminders of the campaign. That includes advertising the campaign website
www.get2schoolcleveland.com
and the social-media hash tag #Get2SchoolCLE.
The District will track attendance by school and target neighborhoods where numbers lag with literature drops, home visits and calls from phone banks.
The push has to be immediate, Gordon told the principals.
"You can't miss 10 days at the start of school and be successful at the end," he said.
Four year-round high schools are already in session after starting their years on July 27.
The Cleveland School of Architecture and Design and Cleveland School of Science and Medicine will resume classes Monday, Aug. 10. The majority of schools will start the year on Monday, Aug. 17 and the rest will follow on Tuesday, Aug. 18.
For a list of schools and their start dates, as well as other back-to-school information,
click here.