Providing High Quality Choices for Families
Return to Headlines
Teen film writer Skyler Edge credits high school for support
CMSD NEWS BUREAU
3/25/2015
Skyler Edge's journey has already reached some incredibly high peaks, perhaps none loftier than this week with the sold-out world premiere of the film "House, Not Home" at the Cleveland International Film Festival.
But the high school junior said this week that the acceptance and encouragement he received from the school community at CMSD's innovative
Facing History New Tech High School
played a key role in getting him to this point -- an outspoken transgender teen with a movie script to his credit.
Skyler told a small crowd in the school auditorium Tuesday afternoon (see photos at right and below) that a supportive academic and social community at FHNT played a role in his coming out as a transgender person in 2013 and then for finding the words to write about it.

"I don't think I could have done any of this if I was anywhere else," Skyler said following a preview of the movie and a behind-the-scenes video. "A big part of my own story, being myself and coming out was because of the support and acceptance at this school."
Unique Cleveland school
The two-year-old District high school is housed for now on the third floor of the Charles A. Mooney K-8 School in the city's Old Brookyln neighborhood.
It is considered to be the only high school of its kind in the United States because it combines the wide-ranging, socially probing "
Facing History and Ourselves"
curriculum alongside the project-based learning approach and technology-focused sensibilities of the
New Tech program
also used at other CMSD schools.
At FHNT, student work is assessed through a "combination of content, oral and written communication, teamwork, reflection and work ethic, not traditional grading," according to its CMSD sub-website.
Principal Marc Engoglia said, however, that the culture of the school is equally important for helping FHNT students succeed.
"When it comes down to it, the kids care about all of that other stuff when they know you care about them," Engoglia said. "From day one, I told my staff that if the kids see we are genuine, then success will come in the academic areas, on testing and everything else."
Engoglia said Skyler "was among the first to buy into what we are trying to do here" after a rough start in his freshman year in 2012 when he would often end up in the principal's office with what he said were migraine headaches.
"I would see Skyler in my office a couple times a week, and it was obvious that he was struggling with something very big," Engoglia said. "Since he came out to his peers and was able to voice his feelings, I don't think I've seen him in there with a headache since."
Skyler also credited teacher Martha Verde for encouraging him -- then an admittedly shy and awkward sophomore still known as Aryana -- to tell his story. It was in Verde's class and with a school guidance counselor, that Aryana began to talk more openly about his gender preference.
"This school also helped me realize the value of my words," said Skyler, who wrote the original story for Verde's class that was later submitted as an entry to nonprofit Scenarios USA's "Real Deal" competition.
Scenarios, which has also partnered with CMSD for several years on a sexual-education curriculum, "uses writing and film to foster youth leadership, advocacy and self-expression in students across the country, with a focus on marginalized communities," according to its website.
That contest entry, one of more than 650 submitted to Scenarios last year, eventually became the framework for the film, one of three selected by the organization this year to be made into short movies.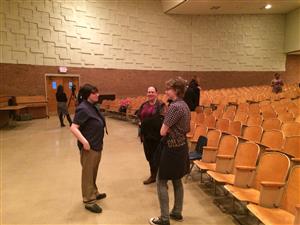 The other two are "Aleah" from a New York City student, which was also screened Tuesday, and a not-yet-completed film from a Chicago college freshman called "Veracity, which is being directed by Seith Mann (Homeland, The Walking Dead).
Each of the short films will eventually air on Showtime and be used in classrooms nationwide and as part of Scenarios' curriculum. Like Scenarios' past 24 films, Skyler's film will be seen by an audience of 20 million people.
"House, Not Home"
Skyler's short movie, the story of a transgender teen "Terran," was shot entirely in Cleveland, using local actors, locations and sets. Charles Mooney School is prominent and Verde gets a cameo, telling the two bullies who play a part in the story to "get to class."
Terran's journey in the film includes conflict with his father when he chooses to begin wearing traditionally feminine clothing to school and a violent scene where he is jumped by a gang of students who post the video of the attack on social media.
Skyler's mother, Bev, said she and her husband did not have as much difficulty as the parent in the film, but she was glad the movie reflected how the on-screen father's attitude changed over time.
"His father and I are pretty progressive people, and we've always taught our children to just be themselves," she said. "We are very proud."
A group of about 50 people applauded Tuesday afternoon and the full house on Tuesday night at Tower City Cinemas reacted even more enthusiastically. Social media chatter from that night also reflected the reaction.
Skyler said the film fully reflects his story even if it was rewritten a number of times. "My voice is still there," Skyler said. "It's very much what I wrote, but…beautiful."
Skyler, director Josh Butler (a Los Angeles producer maybe best known for CW's "The Vampire Diaries") and others said they believe "House, Not Home" can speak to anyone who feels ostracized.
"Definitely, this is a message not only to transgender teens, but to anyone who feels left out, cut off or just different," Butler said. "This is about peace in being who you are."
Engoglia agreed: "Skyler came out as transgender, yes, but this could have been anything at all and, in fact, we have teens every day that are sharing big issues with us," he said. "It could be an overweight girl, a boy who tells people he's in a gang, but he's not, or any number of things they are going through."
Skyler said that is evident in how the title of the film has evolved for him. Originally "House, Not Home" spoke only to the main character's sense of not feeling comfortable in specific physical places like his house or school, but then someone else read the script and title and said it had a broader meaning for him.
"They told me that it transcended that to mean not being at home even in your own body, inside yourself," he said. "I could never have said it that poetically, but I think it does have that wider meaning, too."
"Young people have an authentic voice and have always led us to our better selves," Bender said. "The message here from Skyler is that there are many people who feel excluded."
Skyler said he's enjoying all of the attention, but even in the midst of the success of "House, Not Home" and the seemingly widespread acceptance of a transgender success, he is thinking ahead.

"I'd like to think about becoming a lawyer someday," he said. "I'd like to help out other people who are in situations where their voice isn't being heard."

But that doesn't necessarily mean he will stop writing movie scripts.

"Oh, I'd like to keep writing, too," Skyler said. "I feel as if I have a lot to say."