Return to Headlines
Glenville's Cardale Jones in national spotlight at Ohio State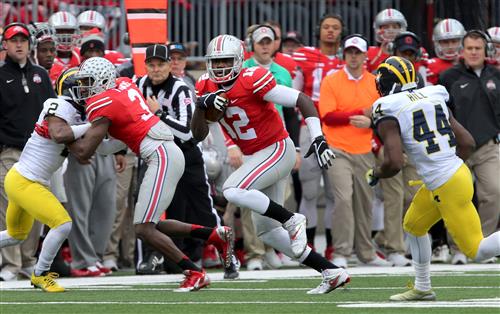 (Photos courtesy of The Plain Dealer)
CMSD NEWS BUREAU
12/5/2014
It won't be the first time that a Cleveland Metropolitan School District graduate takes the national sports spotlight as an Ohio State Buckeye football player.
But Jones' moment as the next CMSD star-in-the-making seemed to come out of nowhere.
Jones began the season as the t
hird-team quarterback on the Buckeyes,
behind Heisman Trophy hopeful Braxton Miller and a surging J.T. Barrett. But Miller went down to an injury in the preseason and Barrett carved out his own Heisman-worthy season, breaking Buckeye and national records along the way.
Then Buckeye Nation gasped again when Barrett broke his ankle in last Saturday's 42-28 win over rival Michigan.
Suddenly, Jones, the big quarterback (6-foot-5, 250 lbs.) from Cleveland (see highlights from his career at Glenville, below), is t
he talk of the national sports scene
and fan speculation that runs from despair to predictions of greatness.
But no matter what happens Saturday, he'll represent his community well, said Ted Ginn Sr., his mentor and high school coach at Glenville.
Ginn said he has been talking with Jones every day since the Michigan game.
"I told him that he's in a position to show people who he is, where
he came from and what he can do," Ginn said. "And this is another chance to show nationally what we can do in this school district.
"He's ready. He understands that this is how you take care of yourself as a man and how you take care of your family, including his Ohio State family."
Whether that knowledge, that dedication and that connection to his hometown and alma mater translates into a great performance and a victory over Wisconsin on Saturday or whether the so-far resilient Buckeyes come out on top, Ginn is not worried about his former charge.
"I tell him that he's an example of what's happening here in the city of Cleveland, in this school district, at Ginn Academy and at Glenville," Ginn said. "Cardale is an example of the things that are possible, but we want people to know that he's not the only one."
Ginn said those other "young men of success who are becoming leaders" include not only the half-dozen other Glenville football players currently on the Ohio State team and the well-known others from the past like Troy Smith Jr. or Donte Whitner, but dozens and dozens of others in less-noticed positions.
"I've been coaching (at Glenville) for 18 years and at the school (Ginn Academy) for the last eight and we are all about raising up quality young men," said Ginn, who founded the school that bears his name, Ohio's only all-male public academy. It students can participate in extra-curricular activities at Glenville.
"We have a young man who just graduated from West Point, another who will head there next year and others who excelling in many different ways," he said. "Cardale has put this school district in the national eye again, and it's important that people know that his integrity and excellence is what we expect from all of our young men.
That expectation at Ginn -- and to a larger extent across the District -- has been getting national attention beyond athletics.
Ginn said he has received calls from a number of media outlets this week, including the New York Times and that he tries to remind each reporter that while Jones is the story of the week, there are many others in the District.
"This is what we expect. This is what we teach," Ginn said. "We teach our young men to achieve at the highest level in whatever they do. We believe it is our duty to help them do that."