Return to Headlines
Lincoln-West soccer team gets new look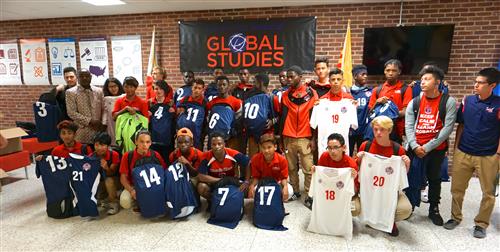 CMSD NEWS BUREAU
8/17/2017
Members of the Lincoln-West soccer team have played like champs, winning the last two Senate League varsity titles. Now, thanks to a generous gift, they look the part, too.
Until this week, a limited budget gave head coach Michael Gong just the basics needed to put a team on the field. Now the squad sports $9,000 worth of new apparel and other equipment.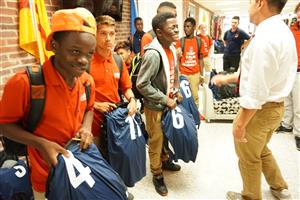 UN1TUS, a Cleveland-based manufacturer of athletic wear, donated game uniforms, warm-up tops and pants, training shorts, socks and carrying bags.
CEO Jack Haas wanted to give back to the community, said the company's Mark Blades. Blades, who is also an assistant coach at nearby St. Ignatius High School, had to look only a short distance down the West 25th Street corridor to be of help.
"We wanted to make sure they were fully outfitted, like someone at St. Ignatius," he said. "We didn't want to give them the bare minimum."
The international sport of soccer is popular at the Lincoln-West Campus, where students hail from several dozen countries and speak a variety of languages. Gong has no trouble filling 30 varsity and junior varsity spots.
Players waited eagerly in a school hallway Tuesday to pick up their new gear. They then traveled to take on Cuyahoga Valley Christian Academy and wore training shirts in a final preseason scrimmage.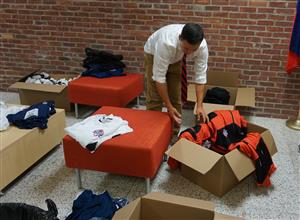 Jonathan Chikuru, a sophomore who plays right wing, came to the United States from the Congo a year ago. He is a sophomore in the Lincoln-West School of Global Studies, which shares a building with another new educational model, the Lincoln-West School of Science and Health, and Lincoln-West High School.
Chikuru gave thanks for the "big opportunity in life to be in this school and on this team."

"I feel special," he said after receiving one of the new uniforms. "In my country, you can't have things like this."

Fred Kipata, who also is Congolese and in the 10th grade at Global Studies, said he, too, was excited. The midfielder and center back said having the upgraded gear "feels a lot better."

Players did not automatically receive one of the 27 jerseys. The coaches, who stress achievement on and off the field, are awarding them based on factors that include commitment, hard work and studies.

"It's your option," assistant coach Vicente Suarez said at the initial distribution Tuesday. "You have to show us."

Lincoln-West's soccer team did not need new uniforms for inspiration. The team, which has struggled in non-league soccer play, lost the scrimmage, 1-0, on Tuesday night, but Gong saw a continuation of improvement that was growing even before the new gear arrived.

"We played some of the best soccer we've played in the last two years," he said. "We possessed the ball 75 to 80 percent of the time. They had their one chance, and they capitalized on it."