Return to Headlines
Max Hayes students restore cherished car for Amanda Berry
CMSD NEWS BUREAU
7/19/2021
A childhood dream came true for Amanda Berry last week week when she received the keys to her grandfather's car.
Amanda fell in love with this car as a young girl and says her grandfather promised to give it to her on her 16th birthday. But in a case that made news across the country, she was kidnapped a day before that birthday and held captive for 10 years before escaping.
About 50 students from CMSD's Max S. Hayes High School worked to restore the 1986 Monte Carlo SS, starting in 2019. Several tudents presented the car to Amanda during the Collision Industry Conference in downtown Cleveland.
"I still can't believe that it is real," she said after the presentation.
Amanda said her grandfather kept the car the entire time she was gone because he knew she would return.
When she did, Amanda went to Tennessee to retrieve the car. The vehicle was in bad shape.
"It was a hot mess," she said. "There were no floorboards, the seats were old, and it was discolored from the sun."
Greg Boykin, an auto body teacher at the Max Hayes learned about Amanda's wish to fix up her grandfather's car and stepped into help.
The students knew this car meant a lot to Amanda. That is why they worked on the restoration during class, after school and on weekends.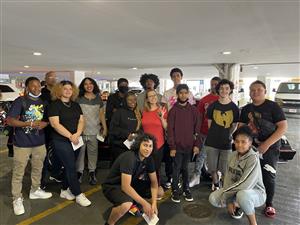 "We did all we could to make it look good for her and for her to be happy with it," said Gerone Ortiz, who graduated from Max Hayes this year.
Thanks to the generous donations from several community partners, including Sherwin-Williams, Axelrod Collision, 303 Enterprise Collision and Safelight Auto Glass, the students made the car look like new.
They replaced the floorboards and windows and gave it a fresh coat of paint, among other things. Amanda said the sight of it gave her goosebumps.
Work had to stop in 2020 when the pandemic hit and CMSD schools went to remote learning. But once the students got back into the classroom, they got right back to work.
"I did wet sanding," said Weilymar Lopez, a Max Hayes 11th grader.
Ortiz worked on painting the car. His skills landed him a job at Axelrod Collision.
"I started my career because of this project," he said.
A dream came true not only for this 2021 graduate but also for Amanda, who can finally drive her grandfather's car.
"My grandfather would be proud," she said.
Amanda said she is grateful to the students for their dedication and skill in restoring the car.
"I know it meant something to them, and it means even more to me," she said.