Return to Headlines
City Year to beautify Benesch to honor King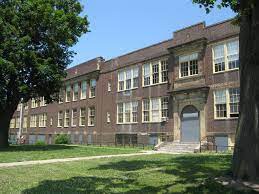 City Year volunteer Elora Irizarry prepares a stencil that will be used to decorate the inside of Alfred A. Benesch School on the group's annual Day of Service. The stencil will list one of the "7 Habits of Highly Effective People" taught to Benesch students.
CMSD NEWS BUREAU
1/16/2019
City Year Cleveland volunteers will honor the legacy of Dr. Martin Luther King Jr. by beautifying CMSD's Alfred A. Benesch School.
Each year on the holiday named for King, the nonprofit pursues a community project. Instead of taking the day off, they join groups across the country in a "Day of Service" in memory of the civil rights leader.
On Monday, while CMSD students get a break from classes, 68 City Year corps members will tackle tasks like painting and decorating inside Benesch; they also will deliver books to classrooms. Sen. Sherrod Brown and other volunteers will join them.
"We are going to make it even more of a positive learning environment for our scholars," said Thea DeRosa Cerra, City Year Cleveland's managing director for development.
City Year also will announce that it is commissioning a mural – on a huge banner – that will wrap around a corner and adorn two sides of the building façade. Local artists will be invited to take on the piece, which Cerra said will reflect the Central neighborhood and the school.
Principal Erin Murphy said the project will provide another boost to Benesch, one of 13 CMSD schools to adopt new academic models this year.
Benesch selected youth leadership development. Students follow the "Leader in Me" program and the "7 Habits of Highly Effective People." During the project, volunteers will stencil the names of the habits inside the building.
City Year Cleveland's volunteers work throughout the school year in nine CMSD schools. Nine volunteers are stationed at Benesch, where they help students with reading and math, assist with after-school programs and build relationships.
"Our kids really rely on them," Murphy said. "They're very positive."
Have a story idea for the CMSD News Bureau? Email it to newstips@clevelandmetroschools.org.