Return to Headlines
MLB, Indians plan East Tech project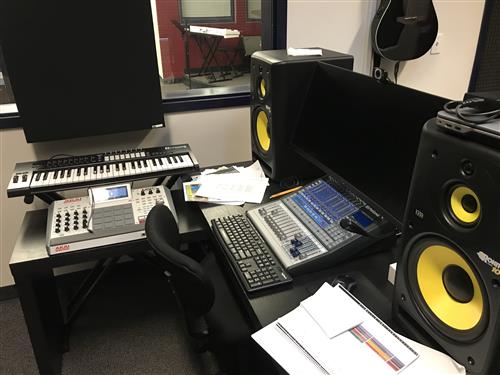 Major League Baseball, the Cleveland Indians and the Boys & Girls Clubs of Cleveland will install video equipment like this in a new digital arts center at East Tech High School. MLB, which will bring the All-Star Game to Progressive Field in July, has announced $5 million worth of local legacy projects that will benefit the community.
CMSD NEWS BUREAU
6/10/2019
Major League Baseball is bringing the the All-Star Game to Cleveland next month while also bringing a new digital arts center to East Tech High School.
MLB is collaborating with the Cleveland Indians and Boys & Girls Clubs of Cleveland on the facility, one of several "legacy" projects that will coincide with the All-Star Game, to be played July 9 at Progressive Field, and leave a lasting impact on the community.
The digital arts suite will give students a space where they can exercise creative expression or sharpen skills that turn into careers. Students will be able to record and mix music in a studio equipped by the nonprofit Notes for Notes, hone their deejay skills, record video in front of a green screen or work in a tech lab equipped with Mac computers and digital printers.
Boys & Girls Clubs of Cleveland operates a teen center at East Tech, and the suite will expand its presence. Ron Soeder, president of the organization, said he hopes the space will be used during the day for education and become a community asset that will serve one of Cleveland's poorest neighborhoods from morning until early evening.
Richard Starr, who oversees the teen center, said dabbling in digital arts could help students discover hidden strengths.
"There are students here who have a lot of talent," said Starr, an East Tech graduate. "A lot of them don't know what their next move is."
Seven of the 13 local Boys and Girls Clubs sites are in CMSD schools. Besides East Tech, clubs are based at Walton, Luis Muñoz Marin, Mound, A.J. Rickoff and Franklin D. Roosevelt schools and the John Adams high school campus.
Major League Baseball, the Indians and Boys & Girls Clubs will invest $430,000 in the East Tech project. The Board of Education voted earlier this year to spend $75,000 for mechanical and electrical improvements.
MLB and the Indians, with support from the City of Cleveland, will also renovate a ballfield at the city's Luke Easter Park and Talty Field in the Cleveland Metroparks Brookside Reservation, refurbish the city's Larry Doby All-Star playground and transform a single-family house at Baldwin Wallace University into a student center for veterans studying at BW. In all, the projects will cost $5 million.
Have a story idea for the CMSD News Bureau? Email it to newstips@clevelandmetroschools.org.