Return to Headlines
Cleveland Clinic creates internship just for a JMIT student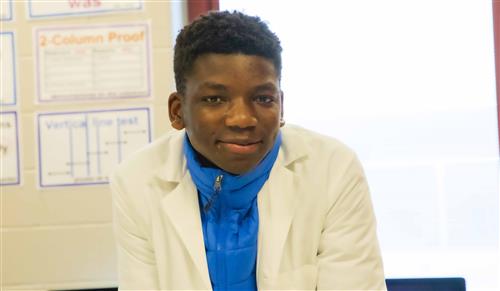 When Mussa Wisoba walked into his first class of the day at the John Marshall School of Information and Technology, little did he know he was about to be offered a paid summer internship at the Cleveland Clinic.
"I had no idea," Mussa, an 11th grader, said humbly. "I didn't think I was going to get in the program."
Not only is he the first high school student to receive an internship in quantum computing at the Cleveland Clinc, but the program was also created just for him after news anchor Katie Ussin featured Mussa on WEWS News 5.
The new story captured Mussa, whose family immigrated from Tanzania in 2016, walking three miles to school in the snow this past February.
Dr. Laura Jehi, chief research information officer with the Cleveland Clinic says that part of the story caught her attention and Mussa's determination to get an education.
"In the story he talked about wanting to work in the Cleveland Clinic Quantum Computer program, and that showed independence of thought," said Jehi, "We didn't want to miss the window of opportunity to make a difference.
Jehi, along with Dr. Ruoyi Zhou, the director of the IBM Discovery Accelerator at Cleveland Clinic, announced to Mussa's entire class that he had been accepted as an intern this summer. They also presented Mussa with his own white lab coat.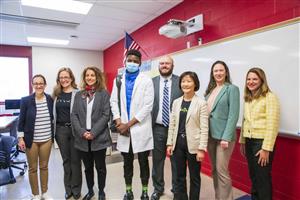 During his six-week internship at Cleveland Clinic, Mussa will be a part of the collaboration between Cleveland Clinic and IBM on the Discovery Accelerator, a center that will accelerate how quickly data can be analyzed. This groundbreaking technology is in its infancy stage but once up and running it will advance the pace of discovery in healthcare and life science through the use of high-performance computing on hybrid cloud, acritical intelligence, and quantum computing technologies.
Mussa will rotate between departments and meet experts who are working on the Discovery Accelerator.
"He'll be joining one of our labs on an actual research project using quantum," Jehi said. "Then he will shadow members of our IT department. This will give him an idea of what a professional career in the field will look like."
Jehi says this internship will shape not only Mussa's career, but other high school students will follow in his footsteps.
"This is going to change the way we do medical research; change the way we do engineering in the future" Jehi said.
Mussa is excited about the internship and knows he is paving the way for his classmates.
"It is great to know that my hard work will help other students," Mussa said. "I am trying to make a difference in my community."
Mussa will begin his internship in late June. He is currently studying physics and quantum science with the hopes of going to MIT when he graduates.